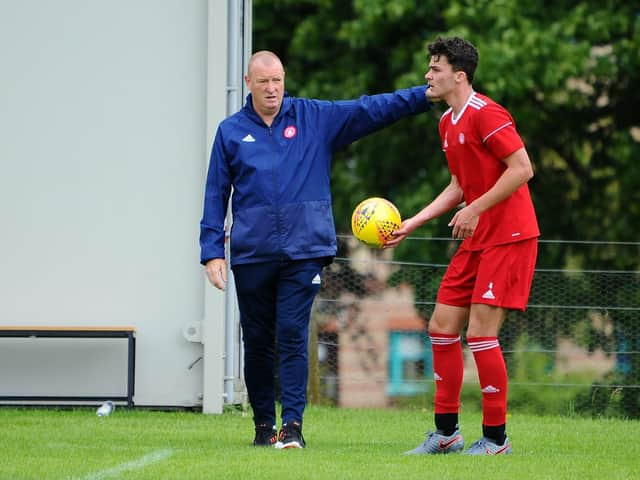 Ruice is now boss of Hamilton where he has former Bairns Blair Alston and Ciaran McKenna in his squad. Picture: Michael Gillen
Chipper spent four years at Brockville and laughed as he reflected on a dressing room of 'lunatics' and the Bairns oft-lamented former home on Hope Street.
He said: "I moved back to Scotland because my daughter had meningitis and it scared the hell out of us."
Brian Rice. Picture: Michael Gillen.
Rice, who hails from Whitburn, had often been along to watch the Bairns with his father before progressing into the professional game and starring and coaching the club.
He signed for Jim Jefferies in 1991 and said: "I walked into a crazy gang. I think I joined the Wimbledon of Scotland. We had Yogi, Ian McCall, Simon Stainrod, a young Davie Weir, Tony Parks and these lunatics.
"Wee Mo Johnston came, Frank McAvennie too - to Falkirk, can you imagine? To the old Brockville as well.
"When I arrived I thought 'look at the state of this place' but it was brilliant. We had a team spirit. Jim Jefferies was terrified to come into the dressing room and used to send his sergeant major Billy Brown in instead. It was crazy but the spirit was there.
Yogi and Chipper were a management team at Falkirk. Picture: Michael Gillen.
"Brockville was one goal of a start for us because people hated coming, the facilities were horrendous, the pitch was tiny and the crowd was on top of you. The lights sometimes worked. But it was briiliant - the atmosphere of an old ground. I love the old stadiums. Atmosphere makes football. Even if the game is rubbish the atmosphere improves it.
Rice went on to assist his team-mate John Hughes in the dugout during the transition from Brockville to The Falkirk Stadium.
He added: "New stadiums don't have character. They're kit grounds.We used to think Brockville moved when Rangers and Celtic came.
"It was one hell of a place. The fans loved going there. It wasn't the best surface but we loved playing there and had some right good players. Mo, McAvennie, Davie Weir, Eddie May, Richard Cadette, Tommy McQueen."
To listen to the full interview - including more on Scott Arfield, Russell Latapy and the 2009 Scottish Cup Final - on Heart and Hand, via Patreon, click here.