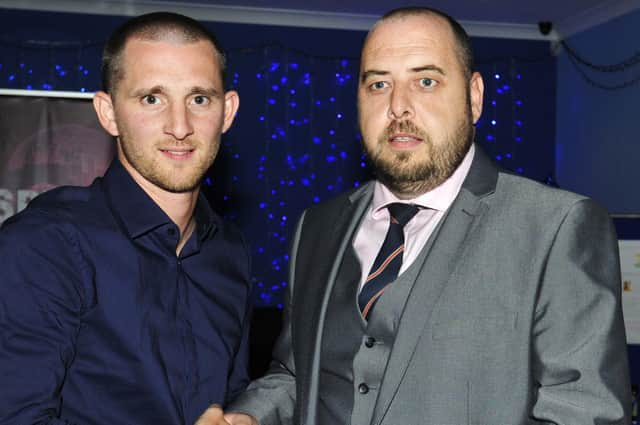 Bo'ness United chairman Iain Muirhead has deep concerns (Pic by Alan Murray)
Muirhead, speaking exclusively to the Journal and Gazette, voiced his fears that his Lowland League outfit have been joined by the newly formed Bo'ness Athletic – formerly Linlithgow Thistle and Bo'ness United Juniors – who will join the East of Scotland ranks at three tiers below the 'big' team.
"It's going to be a big concern that we cannot continue to push forward with another club vying for the same things in the same area," Muirhead said.
"I totally realise that we're on a different platform to them, they've got to go into the bottom league and we're in the top league.
"But no matter how you skin a cat, you have got to look for opportunities of sponsorship, opportunities of collecting money for various different ways to run a football team.
"There's no money man behind us and there's no money man behind them.
"So that's going to have to come within the local community area.
"If you've got two senior teams within a small catchment area trying to look for the same sponsorship, the same fans, the same merchandise sales, treasure chests, there is going to be an issue somewhere down the line because – especially in these pandemic times – companies can't sponsor two teams."
Muirhead said that, when Bo'ness United Junior FC was formed from the amateur team two years ago, his club had lobbied its members to say that as the main BU team had gone senior, then the other club could fill the void in the juniors.
"They were very much looking at completing a pathway for possibly younger people within the Bo'ness area to go up through the levels," he added. "There were a few discussions about it with our members and concerns were raised that – if it came to a situation where we had to move back to the junior game if the seniors didn't work out for us – what would happen then?
"And basically the juniors said they would have to bow out, disband, go back amateur or whatever it may be at that time because there wouldn't be room for two junior clubs within a town the size of Bo'ness.
"That was conveyed to a hall full of 80-odd members of Bo'ness United (in spring 2019) who basically own the club, because I'm only a custodian put in charge by them.
"What happens if they (Bo'ness Athletic) start a treasure chest draw tomorrow?
"We have had that ongoing for the last 15 or 20 years and done very well. For the people of Bo'ness it's quite an in thing now.
"So that is obviously going to impact us."
On the field, there is the possibility that local footballers could be snapped up by Bo'ness Athletic instead of Bo'ness United.
Muirhead said: "In terms of the football situation, will they probably look for the same players as we do? Possibly.
"We are well aware that we are at the higher end of the East seniors and they are at the lower end.
"But what happens if they have a great couple of years and they're up there?
"What happens if they're in the same league in five years time?
"What happens if they go and get their SFA membership?
"The two teams are playing at the same park (Newtown Park) as well.
"The opportunity of this club originated to be attached to the name Bo'ness United, to be part of a pathway, now they have changed their name and gone their own way.
"I have been involved in Bo'ness United Football Club since the age of two.
"My mum and dad had been part of the club and were life members of the club, they're both now deceased.
"I'm not going to roll over and let another club muscle in on something that my mother and father worked hard for 25 years to build and I'm trying to continue that.
"And also other members of the committee.
"I feel very shafted by this that they have gone with our name, used our name for three years, got players on the back of our name and telling them that if they do well at the juniors then they'll go to the seniors.
"It was also an agreement that they were going to be a feeder team. We asked for a player five times and never got him."