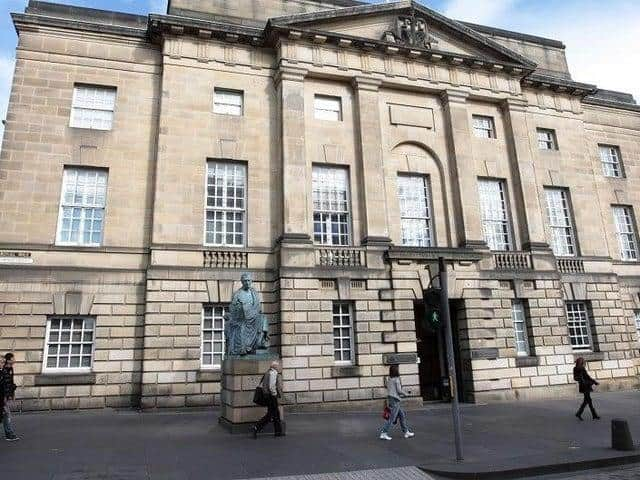 The High Court in Edinburgh.
A sex predator who raped a teenager after luring her to a house with the promise of a party was jailed for five years today (Friday).
Naser Ellase (27) met his victim at a taxi rank in Falkirk after she had been on a night out in the town and invited her back to his address.
But Ellase, who arrived in the UK as an asylum seeker, attacked the 19-year-old and raped her after forcing her legs apart.
She fled from the house and was found by a passerby lying on the ground in a distressed state.
She revealed to the man that she had been sexually assaulted and was taken to a police station.
Ellase, an Iranian Kurd, had denied raping the victim at his address in Stewart Road in Falkirk on January 14, 2018, but was convicted of the sex crime at a trial earlier this year.
A judge told him at the High Court in Edinburgh: "You picked up a young woman outside a nightclub in Falkirk.
"You told her about a party at your house and invited her back."
"When you got back to the house you went into the living room. No one else was in the room. There was no party. Instead you raped her," said Lord Boyd of Duncansby.
The judge told Ellase through an interpreter: "I have read the victim statement and it is clear that the ordeal to which you subjected her has had a profound effect."
Lord Boyd said that even two years later the victim was still struggling to cope.
The judge said: "You are away from home and in a foreign land, albeit that you came here claiming asylum, and prison will, I think, pose some difficulties for you."
Lord Boyd said that first offender Ellase, who claimed the woman had consented, appeared to have some understanding of the potential effect of sexual violence.
But he told Ellase: "This was a most serious offence committed against a young woman."
During Ellase's trial jurors heard that the victim broke down crying at times when she was speaking to police after the attack.
She had gone out with a friend to a club but became separated from the friend and met Ellase for the first time who invited her to a house party.
Defence solicitor advocate George Pollock, for Ellase, said: "In the absence of any prior offending, I would invite the court to consider that he is not at high risk of re-offending."
Ellase watched the sentencing proceedings via a TV link to prison. He was placed on the sex offenders' register indefinitely.