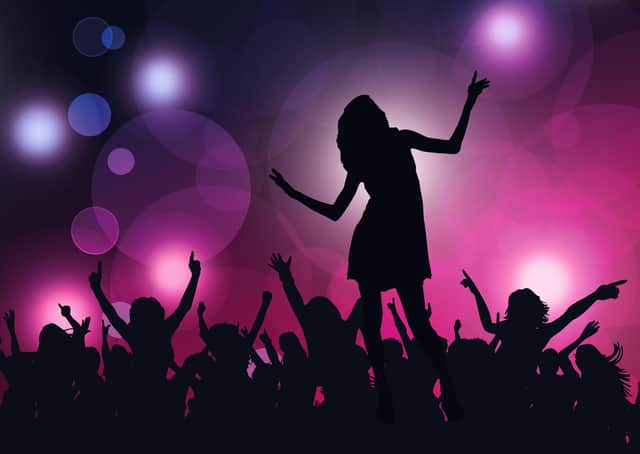 Ya dancer...the top 30 floor fillers of all time have been revealed but is your favourite among their number?
Released by the Swedish supergroup in 1976, it won 36 per cent of the vote.
Come on Eileen by Dexys Midnight Runners, It's Raining Men by the Weather Girls, Happy by Pharell Williams and I Wanna Dance with Somebody by Whitney Houston were second to fifth respectively.
The list was compiled as part of a survey to mark the virtual return of Virgin Media's V Festival this weekend.
Dancing Queens...the Abba girls Anni-Frid Lyngstad and Agnetha Fältskog belt out the crowd-pleasing track which has clearly stood the test of time!
A third of Brits admitted there were songs that compelled them to get up and dance the moment they started playing – wherever they happened to be!
And 56 per cent said it always put them in a good mood.
More than a third (34 per cent) said that a good dance song reminded them of happy times, 36 per cent said that music was one of life's great pleasures and two in five (40 per cent) claimed dancing filled them with energy.
Unsurprisingly, perhaps, 51 per cent of those polled said that dancing to music on a night out, at a festival or a gig was something they would really miss this summer.
However, 44 per cent are planning to recreate a festival experience at home before the summer ends so they don't miss out completely.
Cilesta Van Doorn, of Virgin Media, said: "This research shows just how much we love music but also the way in which dancing – whether it's in the living room, on a night out or at a festival – is a way for us to feel connected with our family and friends.
"That's why we are bringing V Festival back this weekend, with a virtual twist. Although we can't flock to the fields physically this year, we hope that great music and headliner tips on how to recreate the festival experience will have people off their sofas and dancing in their living rooms and gardens. Tents optional!"
Virgin Media's V Festival 2020 is airing on STV at five past midnight tonight and tomorrow (Sunday) at 10.15pm, featuring brand new sets from headliners Anne Marie, Olly Murs and Dizzee Rascal at the festival's Chelmsford site.
There will also be a nostalgic look back at some of the most iconic V Festival sets of all time from the likes of Amy Winehouse, Kings of Leon, Arctic Monkeys and Bruno Mars.
To get you in the party mood, here's the top 30 floor fillers of all time – as voted by the British public.
1. Dancing Queen by Abba - 36 per cent
2. Come on Eileen by Dexys Midnight Runners - 33 per cent
3. It's Raining Men by the Weather Girls - 27 per cent
4. Happy by Pharell Williams - 25 per cent
5. I Wanna Dance with Somebody by Whitney Houston - 23 per cent
6. Sweet Caroline by Neil Diamond - 22 per cent
7. Don't Stop Me Now by Queen - 20 per cent
8. Crazy in Love by Beyonce - 19 per cent
9. Bohemian Rhapsody by Queen - 19 per cent
10. Summer of '69 by Bryan Adams - 18 per cent
11. Sweet Child O' Mine by Guns and Roses - 17 per cent
12. Staying Alive by the Bee Gees - 16 per cent
13. Ain't No Mountain High Enough by Marvin Gaye - 15 per cent
14. Uptown Funk by Mark Ronson and Bruno Mars - 15 per cent
15. Sex on Fire by Kings of Leon - 14 per cent
16. Hey Ya by Outkast - 14 per cent
17. Rock DJ by Robbie Williams - 14 per cent
18. Trouble Maker by Olly Murs - 13 per cent
19. Shake it Off by Taylor Swift - 12 per cent
20. Valerie by Mark Ronson and Amy Winehouse - 12 per cent
21. Get Busy by Sean Paul - 11 per cent
22. We're Going to Ibiza by the Vengaboys - 11 per cent
23. Rhythm is a Dancer by Snap - 11 per cent
24. Heaven is a Place on Earth by Belinda Carlisle - 11 per cent
25. Believe by Cher - 10 per cent
26. Everybody (Backstreet's Back) by Backstreet Boys - 10 per cent
27. Toxic by Britney Spears - 10 per cent
28. You Make Me Feel (Mighty Real) by Jimmy Somerville - 9 per cent
29. Dance with Me by Dizzee Rascal - 8 per cent
30. Timber by Pitbull and Kesha - 7 per cent