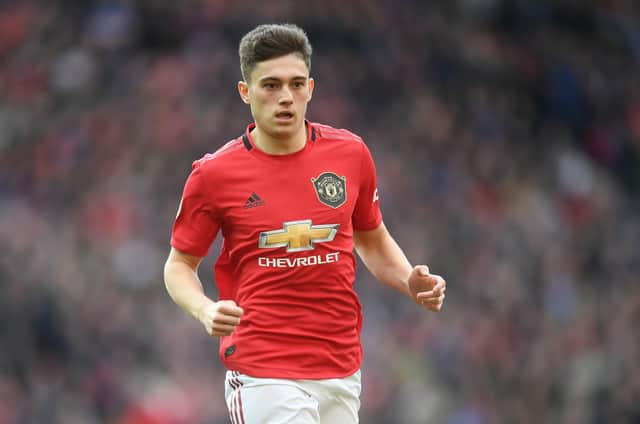 Daniel James has become a key player at Manchester United. (Photo by Michael Regan/Getty Images)
It's 2020. Falkirk are facing a second, costly, season in League One – the third tier of Scottish football.
Welsh winger Daniel James is into double figures of international caps, earning a reputed £50,000 per week in a five-year deal with Manchester United.
Four years ago he was at Swansea, in the reserves. Falkirk had just missed out on SPFL Premiership promotion in May with a 4-1 aggregate defeat to Kilmarnock in the play-offs.
Swansea brought a squad north for Gordon McFarlane's tribute game. Picture: Michael Gillen.
Hopes, for both, were high.
The path from Falkirk to Swansea was a well-trodden one. Started by Jay Fulton in January 2014, Stephen Kingsley followed a few months later and Ryan Blair and Botti Biabi did likewise in the transfer windows that followed.
But it was one-way. Falkirk's best prospects were heading to Swansea. No-one was switching Wales for Scotland.
James challenges Connor Langton, now of Camelon Juniors.
Calls from Falkirk fans had been increasing in volume for the Bairns too benefit from the growing relationship between the clubs. Especially as the latest break-out act at the Bairns, Tony Gallacher was being linked as the next to move to the Liberty Stadium.
Was a player in return too much to ask, they said? A young player perhaps not quite ready for the rigours of Premier League football but one who could benefit from six or ten months playing regularly in a first team environment and maybe, the missing ingredient to Falkirk's blend that had come so close in the Scottish Cup and the Premiership play-off, but never quite tasted success.
But who? Peter Houston had dismissed the suggestion before, but the Bairns support would soon have the opportunity to assess their potential loan targets themselves.
James stood out amongst the players, who included Scott Shepherd, Myles Hippolyte and Jonny Mitchell, now of Brentford. Picture: Michael Gillen
A whole squad travelled north from the Liberty Stadium – but not in the manner many Falkirk fans were beginning to demand. No return deal, permanent or loan.
Swansea's under-23s were to provide the opposition for Falkirk's reserves in a benefit match for Falkirk superfan and time-served volunteer Gordon McFarlane, raising funds for the stalwart to return home after a 13-month stay in hospital.
Among the opposition that Thursday evening were Blair and Biabi… and Dan James as he was then listed on the team-sheet.
After exposure in the Swans first team, James became a target for several big clubs including Leeds United. (Photo by Marc Atkins/Getty Images)
It was James – and only James – who caught the eye. It was reckoned Falkirk had as good, or better options, across the pitch than the players they faced. Only James stood out as having the potential to make an impact in the team among those in the know at Westfield.
With hindsight that's a bit of an understatement. A move of course, never materialised. Swansea had plans for him. Peter Houston's eye for a player had rarely been questioned and it hadn't let him down here either. The Bairns interest was not unfounded, but neither was that of a great many other sides in the youngster's talents.
Of course Falkirk would be interested in him, just as they would have been interested in a player capable of playing at the highest level, regularly, in just a few short years. Many others were too. Manchester United among them.
But what if Falkirk had been successful with the tentative enquiry? The winger could have added to a long list of successful Falkirk loanees to go on to better things, Anthony Stokes, Tim Krul, Kasper Schmeichel among them. And the likes of Lyle Taylor, Will Vaulks, Fulton and Kingsley haven't half done well for themselves since their Bairns experience, but James would have topped the lot.
But it was the Old Trafford club who won his signature and the Welshman has gone on to take international honours under another Manchester United legend, Ryan Giggs (Photo by Jan Kruger/Getty Images)
He'd have walked straight into the Falkirk first-team, even then aged 17, but a debut at the Liberty Stadium was still another 18 months away.
The wait was worth it. He didn't look back.
He went close to joining Leeds United, even posing with the Yorkshire club's shirt and being filmed in a documentary.
Falkirk went close, but again not close enough at the end of that season, slipping in the promotion play-off semi-final to Ray McKinnon's Dundee United and a header from one Paul Dixon.
Had the reply been different they could have had a Welsh wing wizard who would have undoubtedly lit up the Championship – and potentially the Scottish Premiership had he been allowed longer – before breaking into Swansea first team and being sold on for £15 million.
That's what happened to James, only without the Falkirk stint. Thanks, but no thanks as the answer. But just imagine it had been the other way around. He'd have been playing alongside international team-mate Will Vaulks a whole lot earlier too.
He's the one that got away, but he was never really here.