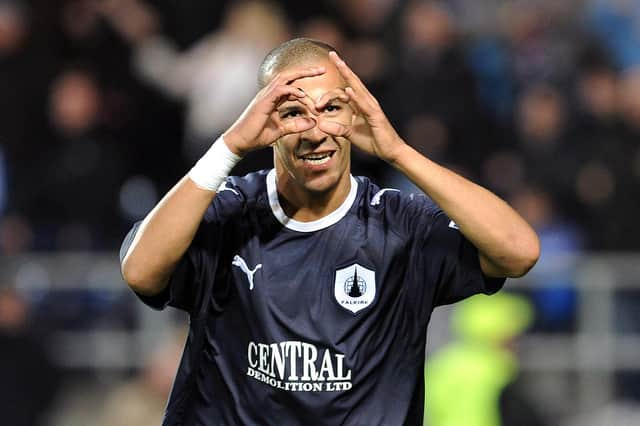 Farid El Alagui celebrates a goal against Rangers. Picture: John Devlin.
Falkirk had failed to bounce back from relegation at the first attempt. It was summer 2011.
They'd seen Mark Stewart, their prolific striker, leave on a contentious transfer to Bradford City that would eventually net the club in excess of £200,000 – and Steven Pressley had to find a replacement to fire the Bairns back to the Premiership. Or so he hoped.
Stewart had fired 17 goals the previous season and the Bairns finished third behind Dunfermline and Raith Rovers. Without him, and without several others who'd left the club like Brian McLean and Burton O'Brien from the Premier League days, there was a chance for Pressley to stamp his mark on the side.
GRANGEMOUTH. Grangemouth Stadium. Behind closed doors match, Falkirk v Dundee United.
He signed Darren Dods and Kallum Higginbotham.
For the pre-season, the manager ran the rule over several players. Scotland Universities captain Alistair McKinnon was invited in, Tam McManus too after an injury hampered season the year before. Michael McGovern trialled with goalkeeping coach Jim Preston and Darryl Duffy joined for the running sessions at Stirling, but David Winters in particular, was showing up well on his return to Scotland from a spell in Vietnamese football.
The striker, brother of Scotland international Robbie, found the net in a friendly win at Inverurie on the club's northern tour and looked like the answer to the Bairns striking problems caused by Stewart's unapproved defection to Valley Parade.
Darren Dods and Stephen Kingsley congratulate David Winters. Picture: Gordon Whyte.
But a contract was not forthcoming. Pressley was impressed but not quite ready to line up a deal.
He was involved in two closed door games, filled mainly with trialists, first against St Johnstone at Grangemouth Stadium, and again, it looked like Winters was winning a deal with the Bairns. But then, a few days later at Grangemouth, in a match against Dundee United something happened.
An unknown French forward took to the Bairns light blue shirt, scored past Dusan Pernis and was all-round combative, explosive and eye-catching. His agent, Stefano Salvatori, sat with Pressley and coach Lee Bullen in the stand while Craig MacPherson and Alex Smith took charge of team affairs.
David Winters had a battle on his hands to claim a contract at Falkirk. Steven Pressley had a dilemma. One space in his squad budget, and two viable striking options.
Steven Pressley with Lee Bullen and Stefano Salvatori run the rule over Farid El Alagui and David WInters from a distance. Picture: Gary Hutchison.
He pitched both in for the first public game of the close season, at Alloa, and Falkirk ran out 4-2 winners. Winters looked impressive, but the mysterious Morroccan found the net. His name, it transpired was Farid El Alagui.
And with that, a goal, he was gone. Back in France again, the Falkirk Herald was told.
Falkirk headed to their short working trip to the north east, basing themselves on the outskirts of Peterhead and playing Formartine, Inverurie and then the Blue Toon. They took Winters, and the striker did his chances no harm when he scored in the match at Harlaw Park. They took McManus, and he played in the last game, which ended in defeat.
Farid El Alagui scored against the Tayside team.
But no deals were forthcoming. The season was approaching, and fast.
Steven Pressley's striking dilemma pitched a risk on the unknown French-speaking forward brought by his former Hearts team-mate turned agent Salvatori, or the proven, if not prolific Winters with a steady record of goals in the Scottish game.
After more than two weeks and no deal Winters left the Bairns without signing. He moved to Dumbarton. Stefano Salvatori was contacted and a deal agreed for his client to return to Falkirk.
Steven Pressley was ready to take the gamble, and what a move it turned out to be. It defined a season, and an era of Falkirk goalscorers.
The striker would lose his surname and be known simply, affectionately, as Farid, in Falkirk. He'd kiss a lucky coin he found on the pitch before scoring his first competitive goal against Partick Thistle 28 times in 44 appearances and help Falkirk to the semi-finals of the League Cup and to victory in the Ramsdens Challenge Cup.
Academy Director Craig McPherson and Alex Smith took charge of the team which included youth players and trialists. Picture: Gary Hutchison.
Yet his future at Falkirk had been in the balance. He had a strong adversary and rival for the number nine shirt in David Winters, but Steven Pressley plumped for the French-Morroccan. And the Bairns never looked back.
Winters scored against Inverurie in the first half. Picture: Gregor Whyte.
El Alagui's goal was the first of many in a Falkirk shirt.
El Alagui won silverware in his only season with Falkirk. Picture: Lisa Ferguson