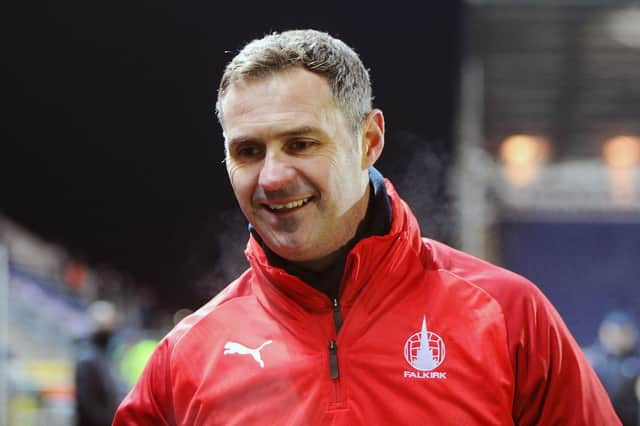 David McCracken. Picture: Michael Gillen
However the management team of McCracken and Lee Miller are not finished yet and are keen to add more players, where the budget allows, and much of that depends on the sales of season books.
The managers praised the fans' backing. Picture: Michael Gillen
This year's offering is different with fans still in limbo over their attendance at matches when the season starts in October.
However season ticket holders will have access to see games via Falkirk TV for the interim at least and have snapped up more than 1200 since they went on sale last month.
A bigger uptake results in more recruitment revenue for the bosses but also bigger crowds to inspire the players in their hunt for promotion in the shortened 2020-21 season.
McCracken said: "The fans have been superb as always, and the club has restructured the season ticket type. We know how much we need them – more than ever - and that they buy the season tickets, because it does affect our squad directly.
David McCracken says more season tickets could help recruit another signing. Picture: Michael Gillen.
"If we can get more sold it might help bring in another player, and that's massively important for us.
"The club has realised how much you need the fans' support in season tickets and hospitality backing and it has been restructuring a bit to other ways of raising money.
"We'd hope fans can come back by the time we're back playing because it's not the same with the background noise instead. Having supporters adds to the intensity of the game and the way it moves. We hope there is a percentage of fans back, but that is decided elsewhere."
Lee Miller added: "We feel we have a really strong squad. We have Blair in and we're now starting to get the balance of experience.
"We have youth from the likes of of Aidan Keena and Calumn Morrison and now Blair's experience – though Calumn has experience too.
"We'd still like to add more but we'll see budget-wise. The board have been great with us and backed us through lockdown. It's been different with meetings over Zoom and the budget talks do change. There are things we can do, and can't do and it's about a balance and blend. We explain to what we need and bounce ideas around and they're open to that.
"It's exciting times for us and the long term project is the premier league but short term we want to win as much as possible and get up to the championship and kick on from there."