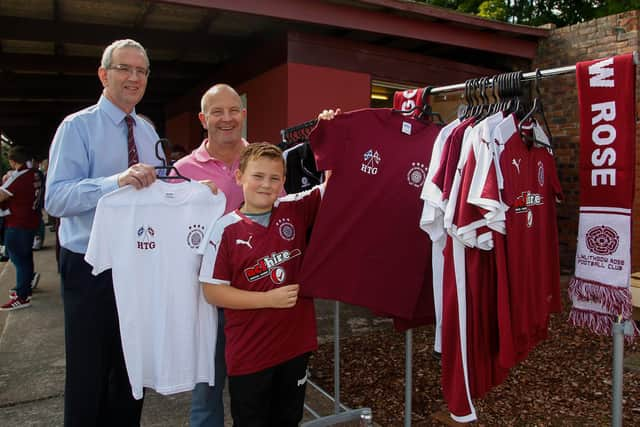 Linlithgow Rose chairman Jon Mahoney, 1st left, has been explaining the club's reasons for voting to null and void league (Pic by Scott Louden)
East leagues officially came to a halt on Sunday night when the results of a vote among member clubs was announced.
The poll saw 73 per cent (29 clubs) vote to abandon the season – with no champion declared and no promotion or relegation between the Premiership and Conferences – with 11 clubs, or 27 per cent, opting to restart the season.
"We were not happy about the fact that the players haven't been allowed to train since the beginning of January," Mahoney told the Journal and Gazette.
"And we wouldn't have been allowed to contact train until May 17, with then two or three weeks to get them back up to fitness before they played another seven games to get halfway through the season (a landmark which would have seen the campaign avoid null and voiding) .
"Those seven games would probably have taken another three weeks because we would had to have played two a week.
"My experience of last year, when the players stopped playing in March and returned to training in August, we then had an incredible amount of injuries.
"The number was just phenomenal, we had the manager (Brown Ferguson) on the bench as a substitute because we had just run out of players.
"I think you can do pre-season but you need a level of fitness going into it.
"Once the fur starts to fly so to speak, that's when you find out what happens when you do the extra stretches, the extra reaches.
"We would have been training for three weeks to play for three weeks to get us somewhere around the middle or the end of June. And then two to three weeks after that these guys would have been starting their new season.
"It was totally impractical and in between times we would have been having to release all the guys who were out of contract and didn't want to stay.
"We would have had to build a new squad for next season, fit in pre-season training and get those players familiar with each other."