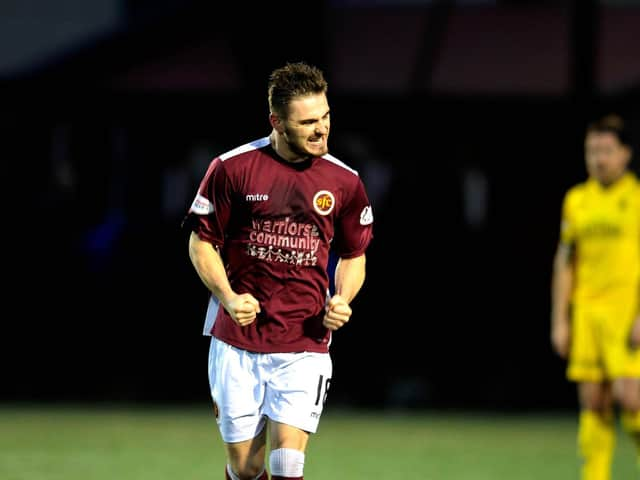 Sean Dickson in his Stenhousemuir days (Pic by Michael Gillen)
Immediately prior to Ferguson arriving as a Stenny player in 2011, Bomber had been playing for Alloa and, that April, was in a Wasps side beaten 2-1 by Stenny – including a young Dickson – with Alloa ultimately finishing ninth in the Scottish Second Division before being relegated via a play-off.
Dickson said: "I played with Brown for two seasons at Stenny after that campaign when Alloa were relegated.
"I didn't feel sorry for him after that happened, because I didn't know the guy and it was us or them going down.
"He was brilliant, a model pro.
"If I'm being 100 per cent honest, I wouldn't be at Linlithgow Rose if Brown wasn't there. That's the truth.
"It's nothing to do with money; it's everything to do with him.
"I believe in him and he believes in the plan he has put together.
"I think we can win the East of Scotland Premier Division next season. We have a great squad.
"I don't know a lot of the teams there.
"But I know the players we've signed like Paul Willis, Scott Stevenson. I know they've played senior.
"I firmly believe that, as we have the right man in charge in Bomber, I honestly don't see a lot of teams beating us.
"I could be wrong. When I was at Stirling Albion (between 2015 and 2018) we had a great team and we were tipped to win the league.
"But we didn't. I think we finished fifth at that point.
"You can never tell what happens throughout a season but, looking at it right now, I don't even think there's a team that would match us.
"But, at the same time, it would be naive of me to comment on that."
Dickson, a left-footed player, initially served Stenny from 2010 to 2015 before a six-month spell at East Fife.
After his three years at Stirling, he was on the books of Stenny again before leaving for Rose this summer.
Dickson can play in a variety of positions but he told the Journal and Gazette what he believes to be his best one.
"Throughout my career I've played up front, left midfield, centre midfield, number 10 – where I played for Brown most of the time – and holding midfield," he said.
"And, obviously, I played left back last year but I played there for Stenhousemuir as well.
"I'd like to think that I could pretty much play anywhere.
"My preferred position with Linlithgow would be – it no longer exists in football any more – is a number 10.
"But I know the way Brown will play.
"We'll play a three in midfield and I'll be any one of those three.
"It doesn't really bother me whether it's central, left or right."