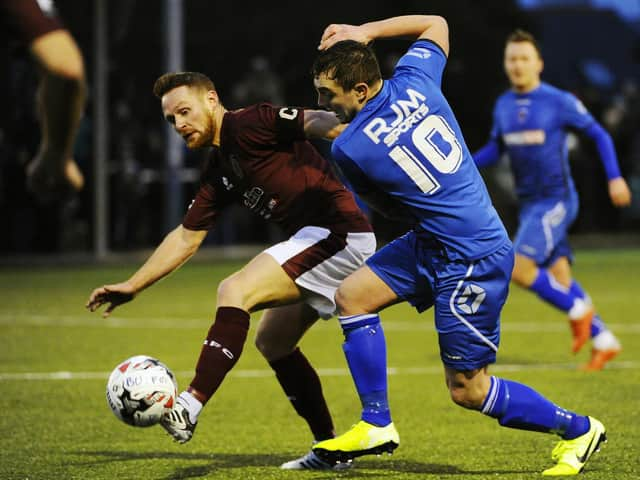 Linlithgow Rose and Bo'ness United in action last season
"One of our players woke up on the Saturday morning with some symptoms of Covid," Linlithgow manager Brown Ferguson told the Journal and Gazette.
"He had a (high) temperature and was coughing and, because of that, the game was called off.
"I think personally he could have isolated and stayed away from the ground, which would have been the sensible rule.
"We were disappointed at the decision to call the game off but, thankfully, the lad is OK.
"He's been tested and there is no Covid case.
"It's just been a seasonal illness, I believe."
Meanwhile, Ferguson said the Scottish Government must give clarity on football's coronavirus self-isolation rules, following the weekend revelation that the entire East Stirlingshire squad and coaching staff were in self-isolation after a player tested positive for Covid-19 last week, leading to the cancellation of their scheduled friendly against Bathgate Thistle.
"The situation with East Stirling adds more mud to the water," Ferguson said.
"One player got Covid and we had a situation where not only is it that player who needs to isolate but the rest of the staff, the players, need to isolate, plus their families.
"This is totally different from two weeks ago, when Annan Athletic had players with suspected Covid who self-isolated but the rest of the players didn't.
"Then, two weeks later, it's all the East Stirling players and their families who have to isolate.
"We've now got ourselves into a situation which, for me, is that if football is going to start under those rules, it will never get finished.
"Also, we should be allowing fans into the stadiums and I don't see why we can't.
"I don't see why other industries are able to have their customers in to help them survive while we can't.
"You can have people in bars and restaurants, so football should be no different.
"We're an industry that relies on people and it's very beneficial for people to be out socialising in a safe environment.
"I feel football is not getting a fair crack of the whip."