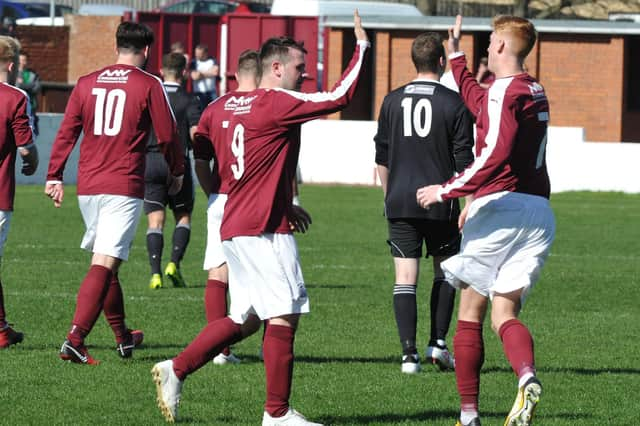 Colin Strickland celebrates scoring for Linlithgow Rose (Pic by Ian Rutherford)
The 35-year-old forward's initial spell at Prestonfield ran from 2010 until 2016 when he joined local rivals Bo'ness United. But 'Coco' returned to Linlithgow in July 2017 and has served them ever since.
"Colin has been a fantastic servant," Linlithgow manager Brown Ferguson told the Journal and Gazette. "Obviously I'm disappointed to lose him because since I came in he's been a player/coach and had an impact on the field when the opportunity allowed.
"But his impact in terms of the coaching was first class. I can't speak highly enough of the guy, as a person and as a human being he's different class.
"There's a crossroads here in that we wanted him to stay. But that would have meant he was taking a bigger step into the coaching side of things, probably starting to recognise that his game time would have been even less.
"Or he could seek the opportunity to continue to play football.
"I know it was a bit of a gut wrenching decision for him. I think he just didn't want to give up on playing too soon.
"His dad's the manager, he knows a lot of the boys up there. Obviously they are coming into the new league structure and looking to do well.
"So it's a good move for him. We wish him all the very best.
"He's one of the best guys I've met in football, honest, up front, straight talker, just an all round genuinely very good guy and I hope it works out very well for him."
Before last season's East of Scotland Premier Division was halted due to coronavirus, Strickland was only in the Rose team sporadically.
Ferguson said: "He was in and out. I think partly that was down to injury.
"He got an injury against Sauchie I think it was in the early part of the season.
"I think he pulled his thigh so he missed a bit of football. And it was very sporadic last year for obvious reasons.
"You can tell he's a very good player, you can see that in training.
"Obviously he's getting a little bit older. I don't believe fitness has ever been the strong point in his game which he'll admit himself.
"With the ball at his feet he can take the ball in, he can link it. But just in terms of where we're trying to take the club and the direction that we're trying to go and everything that we're going to try to bring to the team, he was probably going to find himself with limited game time.
"I absolutely understand his decision to keep playing because once you stop there is no going back."