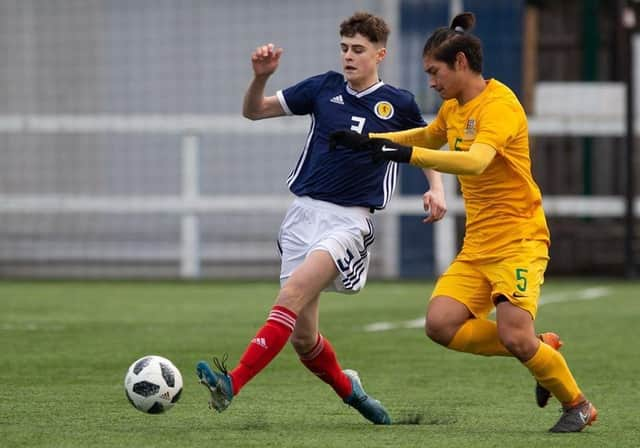 Blair Sneddon played against Australia for Scotland schoolboys earlier this year. Picture: Ian Cairns Media
Blair Sneddon, a Scotland schoolboy international from Graeme High, will make the summer switch from the East of Scotland league, The Falkirk Herald understands.
The defender spent time training with the Bairns last season and impressed bosses David McCracken and Lee Miller. The management duo were back at The Falkirk Stadium last Wednesday, July 1, with the club confirming their return from furlough in an online video just hours after The Falkirk Herald went to press.
Sneddon, a former Dundee United youth prospect, split his time at the Mariners with his studies and the national schoolboys' side. He was previously with Stirling Albion and signed a one-year deal at Carmuirs Park last summer.
Blair Sneddon played against Australia for Scotland schoolboys earlier this year. Picture: Ian Cairns Media
Camelon would be due a training compensation fee as part of the move.
While Sneddon's deal is awaiting the Bairns' confirmation, a further list of names are being rumoured and linked with the club, both locally and in the national press.
Anton Dowds and ex-Bairn Kevin O'Hara have been linked. O'Hara is believed to have Premiership and Championship interest after a sterling season with Alloa in the Championship.
While not commenting on the Bairns transfer activity, David McCracken did tell The Falkirk Herald what the management team would be looking for in any new recruits, earlier this week.
He said: "We're looking for the right person for the club, for the team, for the squad and even the dressing room – it's not just about them as a player, it's also ensuring they're the right person for us moving forward.
"The amount of agents throwing players to us is incredible, and we appreciate it, but you can tell quickly if a player is for you. Once you find a good one, then you do the homework and find more about them.
"We don't want to give too much away until they're certain. There's a number of players in a number of positions we need to fill."
At the last AGM in December, Falkirk expressed an aspiration to establish "a pipeline of young talent" for the first team, though that wouldn't be via re-instating the club's academy, shareholders were told.
Teenager Sneddon is believed to fit the bill as 'one for the future'.