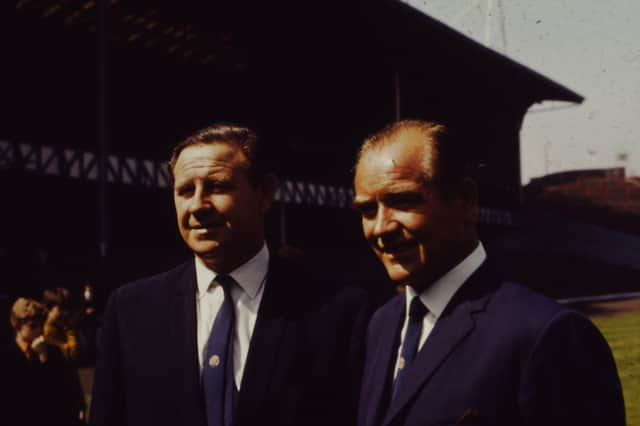 Mystery Picture: Who are these former players?
LET THE HEARTACHES BEGIN: The saga continues with the prospect of the independent tribunal gathering evidence and requests for details of e-mails, phone calls, What's App contents, letters, minutes, and somebody's granny's handbag. It does the game no good at all and the counter claims of Dundee United, Raith Rovers and Cove Rangers will not help. There are no winners in this and too many losers. Falkirk are the forgotten club in all the shenanigans and their situation deserves more sympathy. For Raith to accept the title leaves a lot to be desired.
PENNY FOR THE GUYS?: For the three clubs to get the begging bowl out and ask clubs that have been wronged to chip in, shows an amazing lack of awareness, empathy, and basic compassion. Raith have been less than complimentary towards Falkirk in the past and claimed that money should have been spent on Brockville and not on players who earned a better league placing than the Starks Park outfit. What goes around?
FRUIT-SALAD?: The appointment of Mickey Mellon as Dundee United's new manager was a headline writer's dream. Every fruit-related headline will be brought out depending on results at Tannadice. Water Mellon for games rained off, Mellon-Cholly if things go wrong (or pear-shaped?) Watch the competition to star in the tabloids.
MYSTERY PICTURE: Who are the two former players in our image above?
THE MAGICAL COMPUTER: Neil Lennon hoped the Old Firm clash might come as late in the first round of fixtures as possible. As if by magic, the computer comes up with that very outcome. Who would have believed it? Maybe just in time for a real crowd to be allowed into the game. The "coincidence" is explained away by the need to programme in all sorts of factors, such as rugby games at Murrayfield to avoid clashes with Hearts games. Aye right.
CINDERELLA: Unless you accept wage cuts by midnight, you will find your Hugo Boss outfits will turn into charity shop togs and your Porsche will become a second-hard banger. The Bad Fairy at Dens Park issued an ultimatum to 13 players on Wednesday, and allegedly 11 replied in the affirmative. It shows the fragile state of the finances at Dundee who are no strangers to football administration problems.
MORALITY?: The first team is everything and without a strong team, all the rest falls by the wayside. But you have to question the morality of any club laying off backroom staff and then grabbing the headlines with a £250,000 player signing. Hibs backroom staff will be feeling less than valued, but again that is the reality of the current situation. Furlough and subsequent redundancy are going to be commonplace and the Football industry is no different from many others.