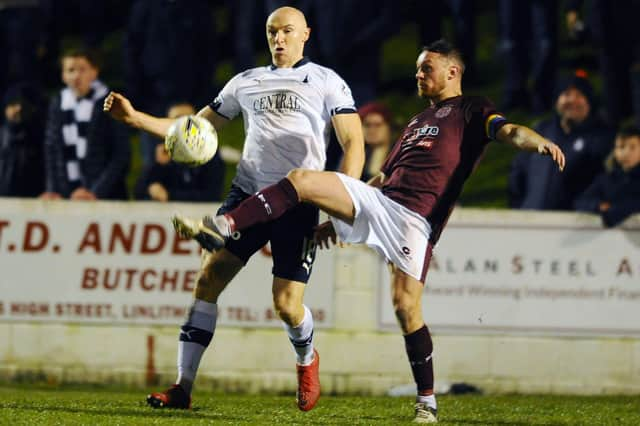 Ruari MacLennan (right) pictured playing for Linlithgow Rose against Falkirk in a Scottish Cup tie in 2019
MacLennan, 33, paid tribute to his old buddy, 35, ahead of the striker/coach leaving to join Armadale Thistle on a pre-contract having served Rose for every season bar one since 2010.
"Colin will be massively missed about the place," Ruari told the Journal and Gazette.
"He's up there with Mark Tyrrell, Gordon Herd, Stuart McArthur and Tommy Coyne (all Linlithgow Rose greats).
"I talk to Coco most days. He is one of my good mates and he just wants to play football, that's his thing.
"He's stayed fit and he still feels he's got a wee bit to offer. If I was in his situation I'd be doing the same thing."
MacLennan, who away from football works as a glazer, also faces a big decision in summer 2022 when his current Rose contract expires.
"Who knows what will happen," Ruari said. "I'll be 34 by the end of that so the gaffer (Brown Ferguson) might want to get some young blood instilled in the team which is understandable.
"I know that's the way football is, that you're not going to be around forever.
"We'll wait and see butif the gaffer wants me atLinlithgow I'll be there as long as he wants me."
Before last season's East of Scotland Premier Division was finished early due to coronavirus restrictions, Linlithgow went on a fine winning run to get into promotion contention before their hopes were dashed by Covid-19.
And Ruari reckons they could have gone up to the Lowland League, given the chance.
He added: "I think we had a good chance of promotion, we had a good strong squad at the time. Jeanfield and Tranent were flying as well, to be fair to them.
"Then you've got other teams like Penicuik, Musselburgh and Camelon who were doing OK at the time.
"We didn't fear anyone in the league but I see Tranent are doing a bit of spending just now and they're getting some good players in, making some signings.
"So I think Tranent and Jeanfield will definitely be the ones to compete with this year."