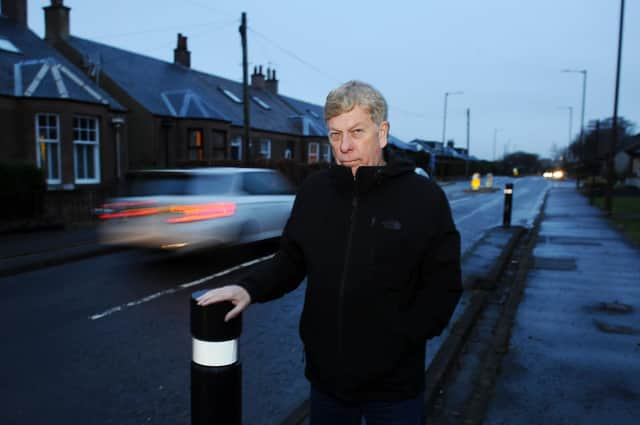 Alastair Fairley has concerns about speeding traffic and feels road calming measures aren't sufficient (Pic Michael Gillen)
Retired police officer Alastair Fairley says the speed limit of 30 mph is constantly ignored as cars often do over 60 mph on the stretch of road outside his house.
Traffic calming measures are slowing cars down at the older part of Allandale but, he says, they speed up when they come to the newer part of the village where he lives.
Mr Finlay said: "We moved here about two years ago and over that time there have been car crashes outside the door here every other week, because people are driving at over 60 mph.
"Night-time is horrendous - you get all the boy racers coming through at 60 and 70 mph.
"It's just a matter of time before someone gets killed."
The cars are driving at high speed and crashing into bollards that were previously put in to narrow the road.
"They are meant to slow the cars down but it's making the situation worse - it's like a game of cat and mouse between cars, with one coming one way and the other coming the other way.
"The drivers don't tend to report the accidents - they just swap details - but it's just a matter of time before someone is seriously hurt.
"What they need to do is put speed bumps in, like North Lanarkshire Council has have done in Castlecary, the next village along.
"That has slowed the traffic right down and made a huge difference - I think that's what's needed here too.
Traffic calming features in Castlecary were installed as part of the M80 upgrade works a number of years ago and are intended to discourage motorists from travelling through Castlecary to avoid motorway congestion.
But Mr Fairley is now concerned that as Cumbernauld's Westway - which will be revamped with several large shops, restaurants and a cinema to the area - is completed there will be even more traffic on the road.
"People from Falkirk are going to use this as a major road more and it's going to get worse.
"I just want Falkirk Council to identify the problem and do something about it."
Mr Fairley says he is disappointed at the lack of response from Falkirk Council when he has tried to raise his concerns, but they say that measures have already been put in place.
A Falkirk Council spokesman said no accidents had been recorded at the road in the past decade.
They added: "The speed limit on this stretch of road is clearly signposted on entry to the village and the traffic calming features, in the form of road narrowings and pedestrian islands, are located periodically to assist with maintaining appropriate vehicle speeds through the village.
"If motorists travel in excess of the speed limit, despite the traffic calming features, then concerns should be directed towards Police Scotland, as the Council have no enforcement powers in relation to speeding.
"However the road safety record on this stretch of road is acceptable with no personal injury accidents recorded in the last ten years."
Thank you for reading this article on our free-to-read website. We're more reliant on your support than ever as the shift in consumer habits brought about by Coronavirus impacts our advertisers.
Please consider purchasing a subscription to our print newspaper to help fund our trusted, fact-checked journalism.