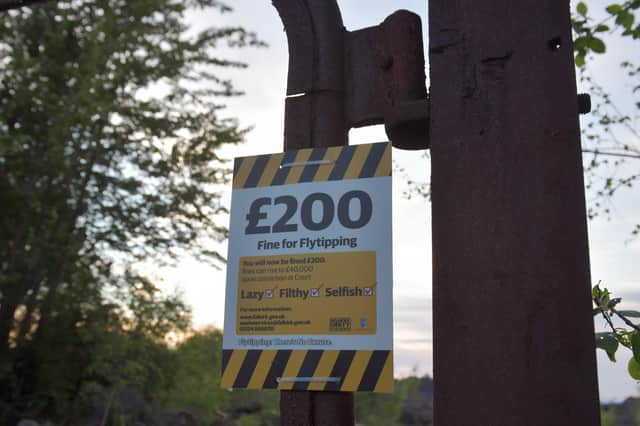 Bonnyhill Road flytipping.
The local authority aims to publish its blueprint next year - but, for many people, the answer is more resources, and a more pro-active approach.
The views came in response to an appeal for feedback from the council as it looks to work with communities to prevent and respond to the problems which are not only a cause of frustration but also expensive to deal with.
By taking part, Falkirk Council will be able to hear your views on topics such as how to prevent litter in the first place and what support is needed by communities, local businesses, landowners and other interested parties.
Bonnyhill Road flytipping.
The debate has already sparked a large number of comments on the Herald's Facebook page.
Jean Kirk highlighted on-going fly tipping at Camelon Community Education Centre where mattresses have been dumped in car parks.
"Clear these areas first to stop people adding to them - visit them and smell the stink of a rotting mattress for yourselves," she said.
Kenny Campbell called for large skips in easy to reach central locations in community's that have issues with rubbish being dumped,
She added: "In Aberdeenshire the council parks bin lorries in central locations in rural villages - rather that the lorry going to them, the person takes their rubbish to the lorry. It could be worth even doing this on an experimental short term period.
David Sandilands said: "Stop charging for special uplifts, increase the number of collections of bins, increase the capacity of the tips and put in a sensible charging model for smaller businesses"
His comments were echoed by a number of others, while Amanda Anderson highlighted "overflowing bins, lack of bin pick ups, and cost for uplifts rising all the time" and added: "Ensure that registered people can use the tip at a price that doesn't encourage fly tipping."
Caitlin Wilkinson, who takes part in litter picks, said: "One the main things is there are not enough bins, and dog bins are often full and are rusty."
Sami Brown called for bins to emptied more often and to ease restrictions on special uplifts, while Mark Watson said council charges for tipping permits were a factor.
"Introduce one monthly payment charge per month, instead of charging per tip - stop being greedy" he added.
Phillip Galloway also called on the courts to play their part: "Courts need to hammer the message home by making fines eye watering, and all proceeds to feed back into councils."He added: "It appears to be rubbish dumped mainly by unscrupulous businesses people - so make it hurt.
Garages should receive electronic notification that the tyres they hand over for disposal have actually reached the appropriate destination. Any garage dealing with tyres could be inspected by the council to verify compliance."
You can have your say on the Herald's Facebook page.
Thank you for reading this article on our free-to-read website. We're more reliant on your support than ever as the shift in consumer habits brought about by Coronavirus impacts our advertisers.
Please consider purchasing a subscription to our print newspaper to help fund our trusted, fact-checked journalism.