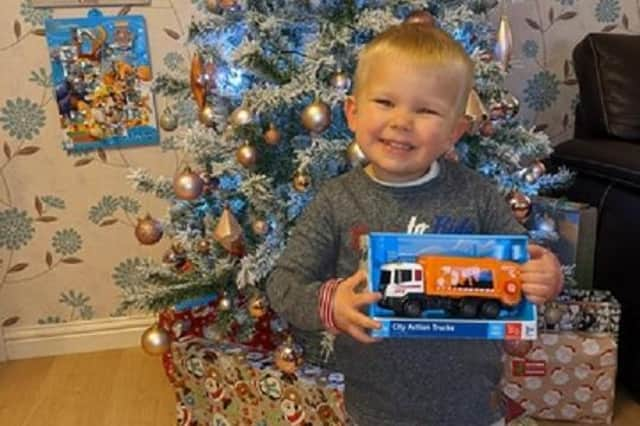 Ollie McEwan, 2, from Falkirk with his gift of a toy bin lorry from the crew which he waves to every day
Little Ollie McEwan won thousands of fans after mum Stacey Reid shared the story of her son's friendship with the local bin men.
Ollie's dad, Keith, takes him out to wave to the bin men every time they are round and recently the toddler gave them a box of biscuits for Christmas.
In her post, Stacey said: "They didn't expect them and were really appreciative.
Ollie McEwan, 2, from Falkirk who got a toy bin lorry from the crew which he waves to every day. he also sent a letter to Santa asking for a bin man.
"This morning, the bin men arrived, and, as usual, Ollie was straight out the gate waving at them.
"The next minute the bin man ran up the hill with a wee gift - they had all put money together to buy him a wee bin lorry toy.
"He said Ollie made their day with the biscuits so they wanted to treat him.
"Ollie was absolutely over the moon and couldn't wait to tell all his friends at nursery.
"It just goes to show that a little act of kindness goes a long way.
"Thank you so much to Falkirk Council bin men for making our wee boys day!"
After her post had been seen by thousands and her son interviewed on radio, Stacy said she was stunned by the reaction.
She said: "I really didn't expect it - I just wanted to show some appreciation.
"All he wanted to do was give them some biscuits but the reaction has been lovely.
"And he's never stopped playing with his bin lorry since he got it - he just loves it!"
Stacey also gave us a peek at Ollie's letter to Santa where he asks for ... "a bin man, a green ball and a stone."
She said: "He's obsessed with stones and bin men!
"He also promised to leave tomatoes for Santa, which we thought was so funny!"
A spokesperson for Falkirk Council said: "It's lovely to see Ollie's reaction and we're really proud of our bin crews going that extra mile to bring a wee boy happiness at Christmas time.
"Our crews work hard all year round and it has been a really challenging time for them throughout COVID-19 so Ollie's reaction we're sure helps make it worthwhile."
Thank you for reading this article on our free-to-read website. We're more reliant on your support than ever as the shift in consumer habits brought about by Coronavirus impacts our advertisers.
Please consider purchasing a subscription to our print newspaper to help fund our trusted, fact-checked journalism.