Sharp drop in under-age drinking hot spots, but concerns remain in Grangemouth
The amount of alcohol confiscated from young people drinking in public places fell sharply last year, a Falkirk Police report has shown.
Thursday, 26th November 2020, 4:40 pm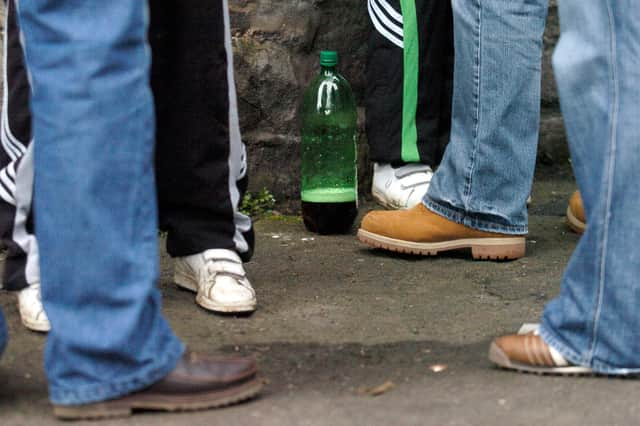 Pic: Scotsman
Chief Inspector Chris Stewart told members of Falkirk Council's licensing board that there had been a "significant reduction in the amount of alcohol seized from the streets of Falkirk".
"My assessment is that is because young people are finding it more difficult to source the alcohol in the first place for a variety of reasons," he said.
"I think there is more positive engagement and positive outcomes ongoing for young people, rather than the fact that police just simply aren't getting the alcohol from them."
"The officers are still out there engaging with young people, particularly those who who may be involved in disorder or anti-social behaviour.
"Their feeling is that less and less young people are getting access to alcohol, so that's a good picture."
However, Grangemouth councillor David Balfour said there were still issues with youth disturbance and alcohol in his ward.
CI Stewart agreed that there are still hot spots.
He said: "Yes, the reduction is there but it's not completely gone away and you'll always find there are particular hot spots that cause issues.
"But there is work ongoing that goes beyond police simply responding to a hot spot and putting yellow jackets on for two weekends then moving on.
"Schools-based officers are working with young people to show them the dangers of alcohol and try to steer them away from it."
His report also highlighted the work done to help vulnerable young people with partners in education, social work and health.
"Let's be honest, it's probably going to remain a challenge and an issue for some time to come but I think it's going in the right direction.
"I do appreciate that in Grangemouth there are hot spots we have struggled to make any inroads in but we are doing our best."
Councillor Allyson Black added: "If you walk around Grangemouth on a Sunday you'll see smashed bottles in the park and we see on social media cars getting jumped on and trees getting set alight.
"It's a big issue in Grangemouth and nothing seems to be changing, unfortunately."
Thank you for reading this article on our free-to-read website. We're more reliant on your support than ever as the shift in consumer habits brought about by Coronavirus impacts our advertisers.
Please consider purchasing a subscription to our print newspaper to help fund our trusted, fact-checked journalism.