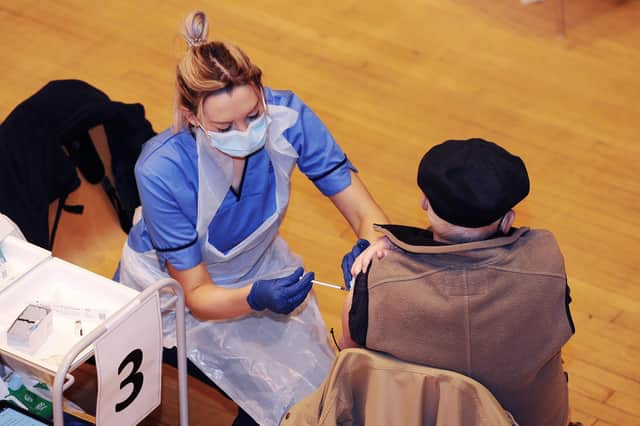 Stock Picture Michael Gillen.
Centres in Edinburgh and West Lothian began vaccinating patients on Monday as part of Wave Two of the vaccination programme.
The Edinburgh International Conference Centre hosts a centre capable of vaccinating more than 21,000 people a week through 45 stations. Strathbrock Partnership Centre in Broxburn is also open for vaccinations with six stations, capable of vaccinating 2352 people every week, before the centre moves to Pyramids Business Park on February 15, to provide 14,280 vaccinations every week at 34 stations.
A drive-through vaccination centre will follow when it is launched on February 10 at Queen Margaret University in East Lothian. It will have 16 stations and be capable of vaccinating 8,000 people a week.
David Small, Director of Primary Care Transformation and executive lead for the vaccination programme, NHS Lothian, said: "NHS Lothian is right on track with Phase One of the vaccination programme. GP practices continue to deliver the injections as fast as their vaccine supplies allow. Thousands of doses of the vaccine have been distributed directly to GP practices across all four regions.
"Our teams have done a fantastic job to bring us to this point and I'm really proud of the hard work and effort that has been achieved. This is a significant moment as we embark on Wave Two of the largest vaccination programme ever undertaken.
"We need to vaccinate as many people as we possibly can to help save lives and provide protection to help communities get back to normal.
"We urge people to attend their appointment once they are notified of the details. The vaccination programme is one of three critical ways we are all working together to beat this virus, along with the testing programme which helps prevent its spread and the rules in place that we all know to follow."
NHS Lothian has been working with councils, health and social care partnerships and other partners in recent weeks to ensure the sites are ready. The centres are the first of a total of 15 to be rolled out across Lothian.
More details available at www.nhslothian.scot/Coronavirus/Vaccine/Pages/default.aspx.