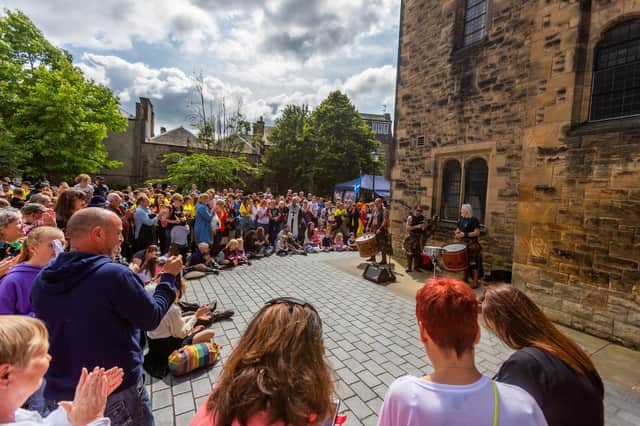 Mediaeval markets, the torture tent, fight a knight and so much more – don't miss the Battle of Falkirk event on July 23.
On the 22nd of July 1298 Sir William Wallace Guardian of Scotland and high protector of the Realm and his army of Scotsman stood in defiance of tyranny against King Edward I of England.
At the Battle of Falkirk event you can watch live re-enactments, witness exciting street entertainment and head to the Medieval Market for some exclusive goodies – even to get your face painted!
Kicking off at 9am with the launch of the Wallace Trail in Callendar Square, in preparation for the start of the event at 10am.
Once the event starts there will be live entertainment on the high street, including a 'Fight a Knight' experience, live storytelling, axe throwing and falconry. Along with the entertainment, Falkirk Delivers are putting on a medieval market where you will be able to purchase traditional Scottish items.
Other exciting displays will take part through the day, so make sure you stop by the torture tent to see what punishments were like way back then, or take in an armoury display to see how soldiers dressed as they went into battle!
Join them for a fantastic day out in Falkirk
Follow the historical procession from Callendar Park as it journeys towards the town, ending at the Trinity Church. There will be live music and dancing from there, as well as lots of activities for the wee ones to participate in.
Among the musians will be the world-famous Scottish-Brazillian Band MacUmba, a professional group of musicians based in Scotland who mix the traditional sounds of Scottish bagpipes with the infectious rhythms of Brazilian Samba percussion.
Also - Miriam Wolanski, of Wolanski's Pole and Aerial Fitness will be attending the Battle of Falkirk event showcasing a variety of different circus skills with live performances. Miriam and her troupe will also be giving workshops and a chance for both adults and children to fly from their big rig on Aerial Hoop and Trapeze.
Once in the town, make sure you stop for a bite to eat at one of Falkirk's many restaurants and cafes, and browse the town centre shops where you can pick up gifts, clothing and an array of goods and services.
Elaine Grant, BID Manager said: "We're so excited to bring events back to our town centre, kicking off with the much-loved Battle of Falkirk Event, however while the event is ongoing, it's important for Falkirk to support the businesses in the town centre. So often we hear from the community that there is nothing in Falkirk Town Centre, yet it's our job to encourage footfall into Falkirk and put it back on the map.
"Falkirk Delivers are passionate about bringing free events like these into Falkirk Town Centre, as we're aware that the cost of living crisis is effecting how parents with young children are spending the summer holidays.
"We urge everyone to make a day out of these events, have a look around the market, enjoy the parade then have a look around the shops, or pop by for something to eat before re-joining the event. It's only by shopping local that we can save our high street and support local businesses. Falkirk is historically a community driven town, and to keep our high street alive - it's more important than ever to keep shopping local."
For more information on the Battle of Falkirk Event, and other events that are happening in the town centre, visit www.falkirkdelivers.com