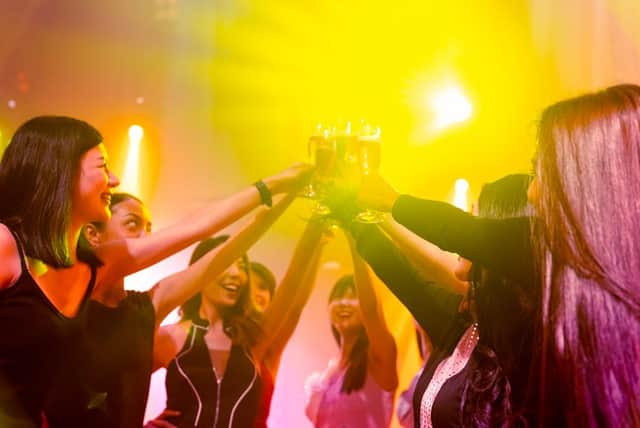 Get ready to party … one of Falkirk's iconic venues is back open
It feels as though the town centre has finally taken the last step in reopening, with nightlife finally able to return in full. Pubs and bars can now stay open as long as their licence allows, and nightclubs can open again, too.
The Maniqui celebrates its grand reopening on Friday, August 13 under new management, with the inclusion of hot food and live music. Falkirk Delivers got a sneak peak into the iconic building to see how they've changed it up, and to speak with new owner Steven Dougal – as it's set to be a weekend to remember.
The restrictions on physical distancing and limits to the size of social gatherings have now been removed, and large scale events can resume. Indoor hospitality venues still have to collect the contact details of customers to help with Test and Protect.
Safe Base is just one of the many projects managed by Falkirk Delivers in the town centre.
Initially there was confusion amongst hospitality venues to find out if masks were still required to be worn, however the Scottish government has now established that face coverings can be removed while dancing, during dining, and while drinking at the bar in pubs.
Falkirk Delivers, Falkirk's Business Improvement District (BID) have also been working behind the scenes to ensure health and safety precautions are taken with nightlife to Falkirk – with the return of its Safe Base scheme.
Working in collaboration with Falkirk Council, Police Scotland, Scottish Ambulances and Specialised Security, Safe Base ensures that taxi marshals and street pastors will be on duty between 10pm and 4am tonight and tomorrow on August 13 and 14.
Elaine Grant, BID Manager said: "After the year and a bit we've had, we're so excited to welcome back the nightlife to Falkirk Town Centre, but it's important that we make sure the town remains a safe place at night.
Keeping our local streets safer
"Safe Base ensures dedicated patrols that ensure that individuals can walk around their town centre at night free from the threat of harm or injury, and ensure that they get home safely. This project also gives the opportunity to discuss issues such as drug and alcohol abuse, in an attempt to make the town a safer community, as well as improve the perception of the night time economy."
Safe Base is just one of the many projects managed by Falkirk Delivers in the town centre. To find out more about Falkirk BID's work, their upcoming business proposal and for information on their renewal ballot, visit their website here: https://falkirkdelivers.com/businesses/business-support/bid.