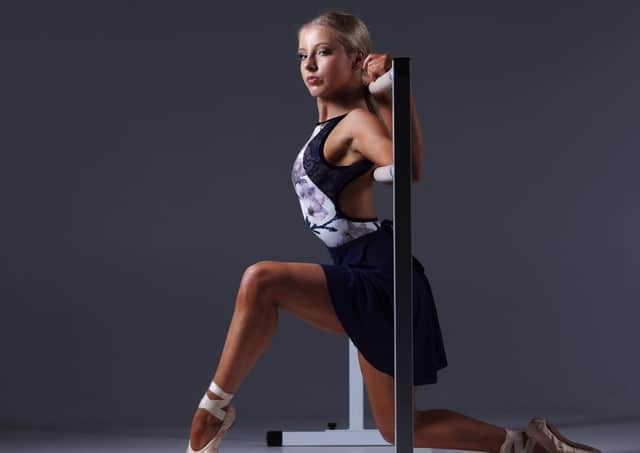 Robyn Whyte.
Robyn Whyte (16) from Bo'ness and Charley-Anne Allen (13) from Larbert have spent the last twelve days training and rehearsing in London for the performance of their young lives - and the local vote will be crucial in winning a place in the semi-finals.
Their performance will be seen by an estimated 3.2 million viewers.
Both are members of the Glasgow-based group Dancepoint, and have already proved they're a cut above the average contestant, but votes from their home towns will be pivotal to them - and Dancepoint - gain a further chance for prime time dance glory after tonight's show.
Meanwhile around a dozen sets of Dancepoint girls' parents have been travelling to and forth from London to cheer them on.
Robyn's mum Arlene Whyte, phoning from London, said: "The girls are being treated very well and are taking it all in their stride - it's the parents who are wracking their nerves over the big show tonight, when Dancepoint will be performing a ballet fusion number.
"If they win through to the semi-final it will be to perform another, different dance style, and once it's announced they'll have just a week to prepare for it.
"I really hope parents in Falkirk, Larbert and Bo'ness will tune in and give them a chance to go even further - they have done so well to get this far, and deserve to do well."
Robyn is firmly set on a dance career, and will be starting college in London later this year - but has a dilemma.
She has been accepted for both the Laine Theatre Arts college and has also been awarded a full scholarship to Masters Performing Arts college in London - so will somehow have to choose one of those two prestigious options.
Meanwhile Charley-Anne Allenis both a pupil at Larbert High and also a pupil at the Larbert High School of Dance - and clearly thrilled and delighted to already be competing on prime time television.
Hosted by former Strictly Come Dancing champion and former judge Alesha Dixon and Diversity member Jordan Banjo, this series sees dancers of all ages and styles competing for the chance to perform on Strictly, as well as the prize of £50,000.
If 75 per cent of the crowd give the thumbs up the dancers progress to the next round.
To find how to vote for Dancepoint, and help Robyn and Charley through to next week's round, visit