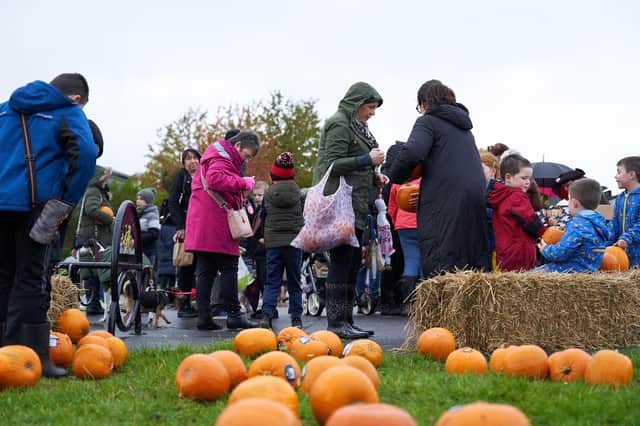 In pictures: Pumpkins in the Park in Grangemouth
Children who dared to enter Grangemouth's Inchyra Park on Sunday were treated to some fantastic Hallowe'en fun.
Published 31st Oct 2023, 10:35 GMT
Updated 31st Oct 2023, 10:35 GMT
The annual Pumpkins in the Park event, organised by the Friends of Inchyra Park, went ahead at the weekend, despite the wet weather which had left puddles around the field.
Families donned their wellies and waterproofs to brave the weather and join in with the day's events.
There was entertainment for the whole family with the 'pumpkin patch', stalls, music, an ice cream van and the Play Talk Read double decker play bus, Benji. There were also 250 pumpkins and goodie bags up for grabs.
A few adjustments had to be made on the day due to the weather and the conditions in the park with the 'pumpkin patch' being located in a different part and the bouncy castle being cancelled, however organisers ensured the event could still go ahead as they didn't want to disappoint people.
In a post on Facebook, the Friends of Inchyra Park stated: "A lot of happy families get to carve a pumpkin this Halloween. Thank you everyone that braved the weather, honestly so many smiling faces and everything (250 pumpkins/250 bags) gone."