Falkirk DJs fear for future of nightclub industry due to pandemic impact
Gus Michael and David Thompson are like any other DJ – they get a thrill out of bringing joy to others through music and performing in front of a live audience.
Wednesday, 10th February 2021, 4:45 pm
Updated
Wednesday, 10th February 2021, 4:51 pm
The duo have been playing in bars and nightclubs for years and for them there's nothing better than spinning a record or dropping a tune that fills the dance floor.
Sadly for both men, their way of life and careers have effectively been paused for almost 12 months due to the coronavirus pandemic.
Gus and David were regular performers at Sportsters in Falkirk up until such venues were forced to close last March.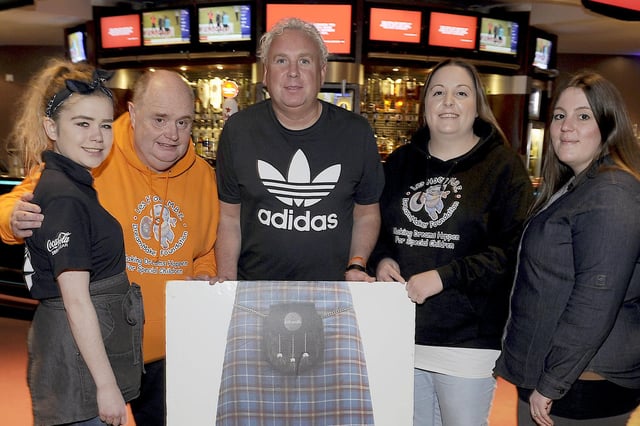 Gus Michael (centre), DJ at Sportsters in Falkirk, says he and fellow staff have received little financial assistance from the Scottish Government amid the coronavirus pandemic. Picture: Michael Gillen.
With little sign of the hospitality or nightlife industries being allowed to reopen any time soon, they admit the future looks "bleak".
To make matters even more difficult, the pair feel DJs and their fellow nighttime economy workers have been largely forgotten about by the Scottish Government.
Financial support has been few and far between, according to self-employed Gus, who counts himself fortunate to have a role as chairman of community radio station Pulse 98.4.
Falkirk's Sportsters and City Nightclub were ordered to close last March. Picture: Michael Gillen.
He said: "I think a lot of DJs have really struggled through this.
"Clubs were the first to close and we'll be the last to go back to work.
"The Scottish Government's passing the grants to different boards and they're distributing it. It's all means-tested.
"Creative Scotland did something where they were paying grants depending on income tax but it's not enough to touch the sides.
DJ David Thompson was regularly performed at Sportsters in Falkirk and Stirling's Fubar prior to the coronavirus pandemic. Contributed.
"I think the easiest way to do it would be to give your National Insurance number to the government and they give you enough to pay your bills.
"My earnings have dropped about 95 per cent. Thankfully I run the radio station but even we've had to take a big hit because a lot of advertisers have taken a big hit."
Thirty-two-year-old insurance worker David, who also performs at Fubar in Stirling, feels hamstrung by the eligibility criteria of the grants system.
He explained: "I fall under the excluded category. At the weekend I can't work at all.
"Although I've been paying tax all my days, I can't claim because I have a full-time career.
"I think it would've been different if I was just DJing because there are self-employed grants but my self-employment would need to cover half of my salary. It's unrealistic.
"The industry's not going to recover to be the way it was. You're not going to be able to put 1000 people in a venue – it's going to build up. It's very bleak."
With more than 30 years' experience, Gus fears nightclubs will lose DJs unless authorities provide greater help.
He said: "I know a few guys who have chucked the industry because they've got expenses and it's a shame.
"I know a lot of DJs on Universal Credit. Our industry's been obliterated."
A spokeswoman said: "The Scottish Government understands how hard those in the music industry have been hit by the pandemic, including DJs.
"The £8 million Creative Freelancers Hardship Fund recognised the range of roles that needed support and set out broad eligibility criteria that included DJs.
"We will continue to listen to the needs of the sector and do everything within our powers to support them through this crisis."
Creative Scotland has been contacted for comment.
Thank you for reading this article on our free-to-read website. We're more reliant on your support than ever as the shift in consumer habits brought about by coronavirus impacts our advertisers.
Please consider purchasing a subscription to our print newspaper to help fund our trusted, fact-checked journalism.