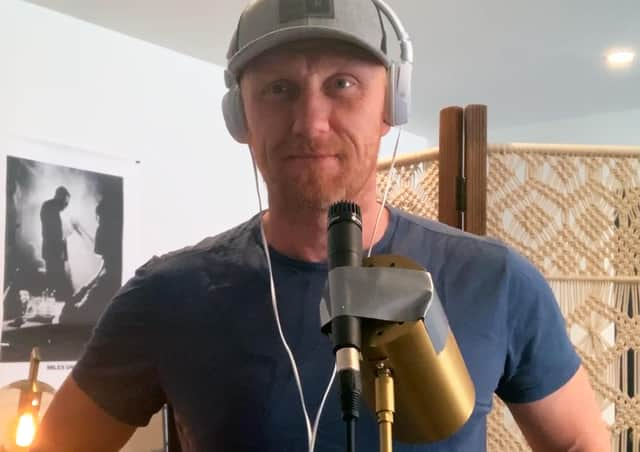 Live from Seattle....Kevin McKidd and the Speyside Sessions band have reformed to raise funds for the Trussell Trust and Help Musicians UK.
However, the talented Elgin-born actor also has a fine singing voice, which he showed off in 2012 when he teamed up with fellow artists for the Speyside Sessions album.
It went straight to No.1 on the iTunes World Music Charts in six different countries – the UK, Canada, Australia, Germany, Spain and the United States.
Now Kevin has got the band back together to do something to help people most affected by the current public health crisis.
Leave A Light On, a beautiful Celtic ballad, has been written and performed by Speyisde Sessions' band of musicians and singers.
Released in the UK on May 4, along with an accompanying JustGiving fundraising page, the charity single will raise funds for The Trussell Trust and Help Musicians UK.
Kevin is male lead vocalist on the single, with Northern Irish singer Mairead Carlin the lead female.
The song was composed and produced by James D. Reid and arranged and produced by Mairead's husband, Ronan Scolard.
First collaboration...from the Speyisde Sessions Band went straight to Number One in the UK and USA.
Old chums from Elgin, James and Kevin were both shocked by reports about empty food banks and decided to do something to help.
After a chat with Small Faces and River City actor Iain Robertson, a plan was hatched to pull together The Speyside Sessions team once again.
Kevin said: "I had been looking for an excuse to get the band back together and it's been a great experience.
"James has done a great job writing Leave A Light On.
Working together...while in isolation was no mean feat but the finished product is a beautiful Celtic ballad.
"He and Ronan had an uphill struggle to mix and produce it, though, with all the quarantine restrictions and everyone being apart but they did it brilliantly!
"It was Iain's idea to raise money for the Trussell Trust and support all of the food banks across the UK. I hate to give the wee man credit of any kind in case it goes to his already big heid but, in this case, he was dead on and has helped immensely with the whole project.
"Then when we got Mairead on board, she suggested we also raise money for Help Musicians UK. Another brilliant idea! She has been amazing to collaborate with and so talented. We are so lucky to have her on the single.
"If ever there was a time that we need music, it's now. I am very proud of the track and it has been a real honour to sing with Mairead and all of the old Speyside bunch again."
James knew that many of the musicians involved had home studios, making it do-able, so he set his mind to writing the song.
"Some songs you have to chisel away at and some just come out as quick as it takes to play them through – this was the latter," he said.
"But it took a week to get all the musicians to lay down the backing track and then another week to get all the vocals in.
"Ronan, our arranger, and Scott Cameron, our engineer and mixer, then laid down the tracks and synced them.
"I'm delighted with how great is sounds, given the difficult circumstances. It's come out as a proper Celtic ballad.
"Kevin sounds spectacular on it ... but that was never in doubt. I was also thrilled to get Mairead Nesbitt, an incredible violinist, and Mairead Carlin whose voice is exceptional."
With 13 backing singers, many sang into their I-phones from under their stairs, in their kids' bedrooms and one singer even had to wait to sing at night to avoid seagulls joining in on the background!
Kevin had to throw together a temporary studio and sang into a basic mic, fed into his laptop. You can even see the mic gaffa taped to a floor light in the video.
But while the artists had to improvise, there's nothing amateurish about the finished track which has already won great acclaim.
No-one could be happier with its success than Iain Robertson.
He said: "I was tasked with getting all the film clips and directing the edit. It was tricky in the confines of lockdown but I'm very happy with the finished product.
"I know so many people are really struggling just now and I hope that we raise plenty of money to make a difference."
Released on Download iTunes and Google Play, Leave A Light On, can also be streamed on the usual platforms. To support the causes, you can also donate at www.justgiving.com/fundraising/lalo.
Kevin's journey to Seattle Grace
Kevin was born and raised in Elgin, the son of Kathleen and Neil McKidd – a secretary and plumber.
He was a member of the Moray Youth Theatre, before going on to study engineering at the University of Edinburgh.
It was here that Kevin became involved with the student theatre company, Bedlam Theatre.
He enjoyed it so much he decided to give up on engineering and dropped out to pursue acting full-time.
In 1994 he landed the lead role in the play The Silver Darlings, produced by Wild Cat Theatre Company, for which he won the Gulliver Award.
Kevin made his screen debut in 1996, firstly as the vicious gangleader Malky Johnson in Small Faces and then as gentle giant Tommy in Trainspotting.
But to legions of female fans he is best known as brooding Dr Owen Hunt, who first appeared in Grey's Anatomy in September 2008.