Hallglen writer Alan Bissett prepares to unleash his inner Moira on unsuspecting Scotland
Celebrated author and performer Alan Bissett is heading out on tour with his mouthy alter ego Moira Bell to tickle the funny bones of audiences throughout the country.
Watch more of our videos on Shots! 
and live on Freeview channel 276
Visit Shots! now
Alan has been performing an infamous series of "one-woman" shows – known as The Moira Monologues – featuring a glimpse into the world of a single mother, cleaner and self-proclaimed "Falkirk's Hardest Woman" since 2009.
After the success of the first Moira Monologues, Alan continued Moira's story eight years later with the Fringe First-winning More Moira Monologues in 2017 – which was also shortlisted for Best New Play at the Critics Awards' for Theatre in Scotland (CATS) – and then in 2022 he performed Moira in Lockdown.
Now, for the first time, Alan will be touring all three of his "Moira" shows as a one-night spectacular, giving audiences the chance to experience Moira's hilarious journey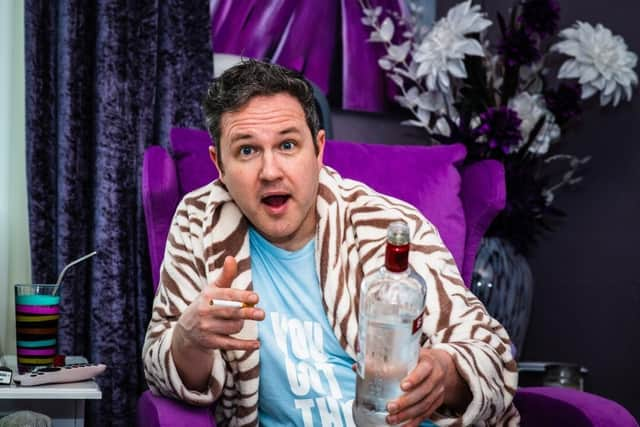 Never seen before as one piece of theatre, the trilogy seen together allows audiences to trace Moira's enduring relationship with her best friend Babs, in this journey of female friendship through different stages of life, while also following Moira's hilarious commentary on historical and political changes in the wider world.
The original Moira Monologues were set against the background of the 2008 financial crash, while More Moira Monologues touched on Scotland's Independence Referendum, Trump and Brexit and Moira in Lockdown focused on the global COVID-19 pandemic.
Alan said: "From the first moment I stepped onstage in the high-heeled boots in 2009 I have absolutely loved performing as Moira Bell. There's a great freedom to playing someone who just 'tells it like it is' and who audiences respond to with such enthusiasm.
"It was only after two sequels to the original Moira Monologues, in 2017 and 2022, that I realised I had a trilogy – one story about the same character, that takes place over thirteen years – and I figured that audiences might want the chance to see, in one sitting, how Moira grows and changes over that time.
"So many people have said, 'Oh I've seen Parts 1 and 3 but not 2' or 'I've seen Part 2 and 3 but not 1'. "ell, now I'm making it easy for people to see them all. It's going to be an epic undertaking for me.
"I'll have to get a bit more fit for a three-hour performance, but I think it's what everything's been building towards since that very first performance in 2009. Here's hoping the high-heeled boots still fit me."
Audiences can catch up on any shows they have missed over the years, or relive them all again, at Dumfries Theatre Royal, Eden Court in Inverness, Websters Theatre, as part of Glasgow Comedy Festival, Mull Theatre, Macrobert Arts Centre in Stirling, and Perth Theatre, between February and May next year.
Tickets for shows in Dumfries, Inverness, Glasgow, Mull and Stirling are on sale now, while tickets for Perth are available from Tuesday, November 28.
Visit the website for tickets and more information on the shows.