Falkirk theatre and dance school girls to star in Movies to Musicals show
A talented quartet from a Falkirk theatre and dance company are preparing to shine on stage alongside a west end star.
Tuesday, 18th February 2020, 5:28 pm
Updated
Wednesday, 19th February 2020, 8:55 am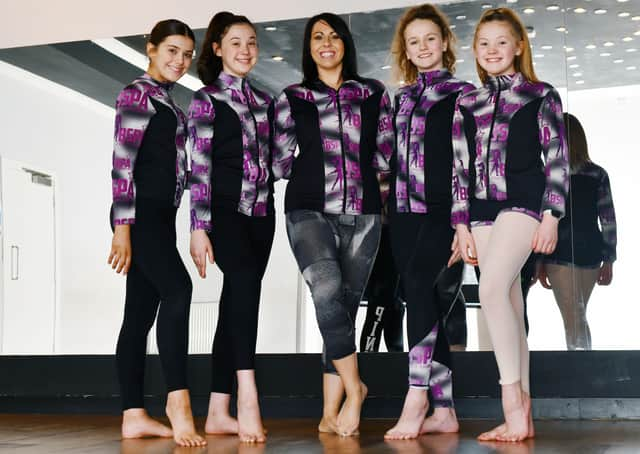 From left: Grace Gillis; Sophie Bygrave; Adele Wallace, Broadway School of Performing Arts owner; Freya Eng and Aimee Bygrave
Sisters Sophie (13) and Aimee Bygrave (10), Grace Gillies (13) and Freya Eng (13) will be representing the town's Broadway School of Performing Arts when they tread the boards of The Glasgow Royal Concert Hall on Friday in Glasgow Philharmonia's production of Movies to Musicals.
The girls will share the stage with Wicked and Les Miserables actress Kerry Ellis, as well as Steps star Faye Tozer and Ben Adams of Flashdance and Rocky Horror.
Sophie, Aimee, Grace and Freya successfully made the final cut for the 35-strong kids' cast after auditioning alongside around 200 other young hopefuls.
The sixth annual Movies to Musicals concert will see the orchestra perform classic film soundtracks and well-loved musical hits as more than 400 performers dazzle the audience.
To add an element of familiarity to the night, Broadway School of Performing Arts owner Adele Wallace is again taking on responsibility for the children's cast choreography routines.
It's the third year on the trot she has been asked to do so by conducter Ross Gunning and it's an honour Adele very much enjoys.
Looking ahead to what she's sure will be a memorable experience for her students, she said: "I've been teaching Grace since she was four, Sophie and Aimee for four years and Freya the same.
"Sophie, Grace and Freya all did the last three shows and it's Aimee's first show.
"It's nice to have local kids involved and it's also nice getting to know the new kids.
"This year the kids get to do numbers with the stars.
"Ross Gunning runs the Glasgow Philarmonia. I've met him at different dance events and he got to know what I did and asked me to look over the kids cast.
"What I enjoy the most is getting to work with the new kids.
"The youngest in the cast this year is ten and the oldest is 17.
"They're all from right across Scotland."
Although venues with a capacity of around 2500 may seem daunting to some youngsters, Adele is only concentrating on the positives and has urged her troupe to give it their all on the big stage.
She explained: "The biggest thing is trying to enjoy it.
"This show is only going to happen once. If it happens again it will be a completely different show and cast. You've got to make the most of it and the kids are amazing for being so young.
"I'd like to thank all the parents for their support and getting involved, and to Ross for having me involved!"
To buy one of the few remaining tickets, go to tickets.glasgowconcerthalls.com. Broadway School of Performing Arts is celebrating its tenth anniversary. Visit www.broadwayschoolofperformingarts.co.uk.