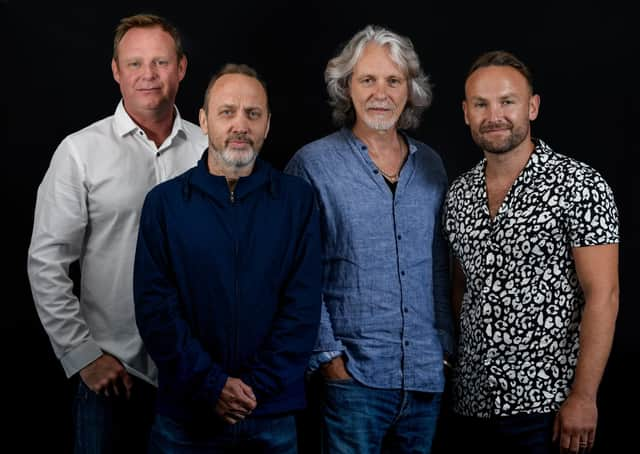 No matter the weather...Wet Wet Wet are sure to brighten up the darkest of your days with their amazing back catalogue of hits from the last 30 years.
The epic 10 hour event will feature some of the biggest names in Scottish music, including Wet Wet Wet, Twin Atlantic, Dougie MacLean, The Fratellis, Kyle Falconer, The Snuts, Horse McDonald and Gun.
Taking place from 3pm to 1am, and hosted live by Garry Spence, it will include performances, Q&As and chats with more than 40 Scottish musicians and DJs.
And it is being billed as the perfect Saturday night entertainment during lockdown.
In discussion...Dougie MacLean will talk about his anthem Caledonia. (Pic Ian Rutherford)
The fundraising stream will feature breakthrough talent as well as some of Scotland's biggest stars, all while raising vital funds for Nordoff Robbins and ViseUp.
Nordoff Robbins is the largest independent music therapy charity in the UK, dedicated to enriching the lives of people affected by life limiting illness, isolation or disability.
Unfortunately, the charity has had to temporarily stop all face-to-face music therapy sessions to protect the health of those they work with and that of their music therapists.
It has been estimated that the cancellation or postponement of fundraising events will result in a loss of around 75 per cent in the charity's fundraising income for 2020.
Big following...The Fratellis fans are certain to want to tune in for their slot. (Pic: Robert Perry)
Despite this, Nordoff Robbins is still working to support people and help with social isolation.
The charity has developed other forms of therapy through the likes of online music therapy delivery, virtual online choirs plus creating digital resources for people to continue to make music together in their home.
Music therapy is a lifeline for the vulnerable people Nordoff Robbins supports, especially as they are being more severely impacted by the lockdown in place.
Sandra Schembri, CEO, said: "Nordoff Robbins Music Therapy has long benefitted from the support of the Scottish music industry through the annual Scottish Music Awards, so we're grateful they're continuing to support us during lockdown.
"Music is so important to people right now and we hope Stream4Scotland will help in uniting people for a moment through the power of music, as now more than ever people need to feel a sense of community.
"Our thanks to all who log on, and to some of Scotland's most exciting musical talent, for helping raise vital funds for us to continue to support some of the most vulnerable and isolated members of our communities."
ViseUp was set up in March 2020 in response to the urgent demand for PPE from key workers at the frontline of the COVID emergency.
Although protective equipment is now reaching those at the epicentre of the crisis, there are still significant numbers of healthcare workers whose PPE needs are not being met.
As long as the crisis lasts, ViseUp will continue its fundraising efforts, channelling all funds towards materials, production and distribution of visors for NHS and healthcare workers.
David Miller, director of the Innovation School at Kelvinside who spearheaded the ViseUp campaign, said: "Medical and care staff are heroes who still find themselves on the front-line of this crisis.
"While requests come in from across every healthcare sector in Scotland, we will continue doing what we can to help."
It costs £2 to make one visor and ViseUp makes and distributes over 20,000 visors per week. Deliveries are made the length and breadth of Scotland: from Glasgow Royal Infirmary to Ninewell's Hospital in Dundee, and Bethesda Hospice in Stornoway to Paisley Royal Alexandra Hospital.
ViseUp is a collaboration of businesses, schools and organisations including The Innovation School at Kelvinside, SWG3, Loft Office, Badaboom, Clydeside Distillery, Hydro-C, City of Glasgow College, Intelligent Façade Engineering, Glasgow School of Art, NHS Scotland, Rock DCM, Urban Office Architects, Peter Drummond Architects, Larbert High School and many more.
Tenement TV will host the event
From 3pm to 6pm, the livestream will see Scotland's largest music platform Tenement TV take the reins as it features a host of breakthrough artists including Aaron Smith, Be Charlotte, Declan Welsh, Honeyblood and Rascalton.
For the main event from 6pm to 9pm, Garry Spence will host performances, Q&As and chats with huge stars including Twin Atlantic, Dougie MacLean, The Fratellis, Kyle Falconer, The Snuts, Wet Wet Wet and many more. Tune in for an interview with Clare Grogan plus an in-depth chat with Dougie MacLean about writing the legendary anthem, Caledonia.
Stream4Scotland will then provide the perfect Saturday night entertainment, with Sub Club and SWG3's night-time takeover from 9pm to 1am, kicking off with one of the UK's most legendary house music DJs, Graeme Park.
The full line-up is as follows:
Twin Atlantic, Aaron Smith, Anchor Lane, Baby Strange, Be Charlotte, Cairn String Quartet, Cara Rose, Clare Grogan, Club Sabbath special DJ set, Cold Years, Colonel Mustard & the Dijon 5, Declan Welsh, Dougie MacLean, Graeme Park, Gun, Harri, Hipsway, Honeyblood, Horse Mcdonald, JG Wilkes (Optimo), kitti, Kyle Falconer, Lucia + The Best Boys, Luke La Volpe, Luna The Professor, Neon Waltz, Peat & Diesel, Rascalton, Spyres, Stephanie Cheape, Stevie Cox, The Bluebells, The Fratellis, The LaFontaines, The Roly Mo, The Snuts, The Van T's, VanIves, Wet Wet Wet and Wuh Oh.