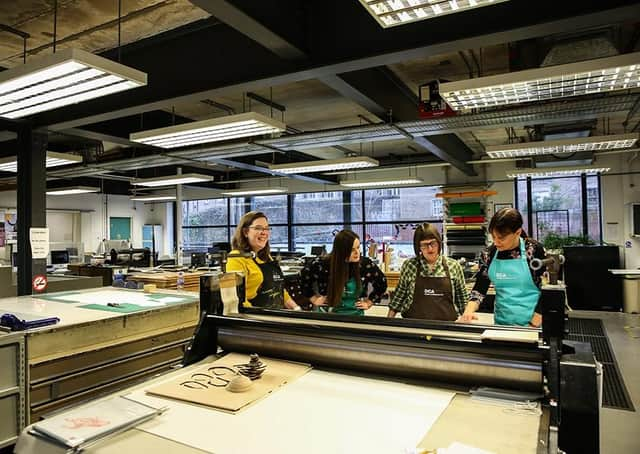 Coming together...is not possible at the moment but artists and venues across the country are getting creative. (Pic: Erika Stevenson)
The Scottish Contemporary Art Network (SCAN) has conducted a Covid-19 Impact Survey and it makes for pretty sobering reading.
It highlighted that 70 per cent of organisations were likely or very likely to cancel programmes; 76 per cent of respondents had lost income in April and 65 per cent were fairly or very likely to see a lower positive impact on the public.
With galleries and production facilities closed, many staff furloughed and the likelihood that re-opening of cultural venues will be among the later stages of the exit strategy, the visual arts face enormous risk.
Unique viewpoint...Beth Bate, director at Dundee Contemporary Arts, fears the venue is exposed to "enormous risk". (Pic: Alberto Bernascon)
Worryingly, the survey revealed that more than a third of individual art workers had lost all their income in April when the full force of the Covid-19 pandemic hit.
And more than a third of arts venues and production facilities had lost more than half of their income.
Clare Harris, SCAN director said: "Artists, art workers and arts organisations are interconnected, with many in the visual art workforce making a living from their own practice combined with a range of work.
"Our survey gives us a view across the visual art infrastructure and highlights to government and funding bodies the extent of the crisis and the very real impacts on livelihoods.
Clare Harris, SCAN director said: "As governments across the UK begin to roll out lockdown exit planning, we need to work hard for a recovery that will enable the visual art community to get back on its feet."
"As governments across the UK begin to roll out lockdown exit planning, we need to work hard for a recovery that will enable the visual art community to get back on its feet and continue to produce work that has a far-reaching benefit for our society."
Arts organisations across Scotland are continuing to work in communities across the country with innovative online programmes, festivals and education initiatives.
However, the loss of tickets sales, cancellation of classes and workshops and the cessation of venue hire and catering means the sector is fearful for its long-term future.
One example is Dundee Contemporary Arts, a much-loved creative venue which celebrated its 20th anniversary last year.
Domestic Bliss...exhibition at GoMA in Glasgow city centre would usually attract crowds but that's simply not possible at the moment. (Pic: Ruth Clark)
An example of how even prudent and well-supported venues have been hard hit, the venue includes a cinema, café/bar, open access print studio and a gallery where exhibitions are always free.
Director Beth Bate said: "Institutions like ours play a key role in our society – as employers, as a place for audiences to access a broad range of creative experiences, as a source of sustained community engagement, as a vital platform for artists at all stages of their careers and as a key part of the economy.
"The risks the sector faces will affect all elements of our work and must be mitigated.
"DCA is in a relatively fortunate position thanks to our track record of financially responsible management and the concerted effort we've put into diversifying our income.
"But, despite those efforts, the current situation leaves us exposed to enormous risk in the medium to long term."
The Gallery of Modern Art (GoMA) in Glasgow city centre has moved many of its regular activities online.
Museum manager Gareth James said Covid-19 means it must rethink the sort of audiences it can reach.
He added: "The main focus of our work remains the same: to provide our audiences with engaging and interesting content based around our museum collections.
"We will see a significant drop in income from donations, from the shop and café. The tourist market will be dramatically reduced because people just can't get to us. We still don't know whether we will have visitors who've come into the city to do their work or shopping.
"As we await guidelines, we're thinking about how our audience will change.
"GoMA has always been hugely popular with the visiting public and we're sure that will be the case in future.
"But, at the moment, we just don't know when we'll be able to safely welcome visitors back in. One thing we do know is that contemporary art practice is endlessly inventive and that gives us hope."
£1.5 million granted to Scottish artists
Emergency funds designed to support people in Scotland's culture sector, experiencing immediate financial difficulty as a result of COVID-19, are now reaching those most in need.
Creative Scotland has revealed that 865 people have now received one-off grants of between £500 and £2500, in the first phase of the Creative Scotland Arts and Creative Bridging Bursary programme.
Thanks to funding from The National Lottery and Scottish Government, more than £1.5 million has been distributed to date to freelance artists and creative practitioners across Scotland.
Iain Munro, chief executive of Creative Scotland, said: "In the midst of the very serious personal and professional impacts being experienced by so many people working across the creative sector, it is encouraging to report that these vital funds are reaching so many people so quickly.
"Nevertheless, while the measures we've already undertaken are responding to the initial impact of this crisis, we recognise that they are limited when compared to the significant future challenges faced by our arts screen and creative industries sectors.
"Our absolute priority is now about concentrating our efforts to safeguard and protect their longer-term future."