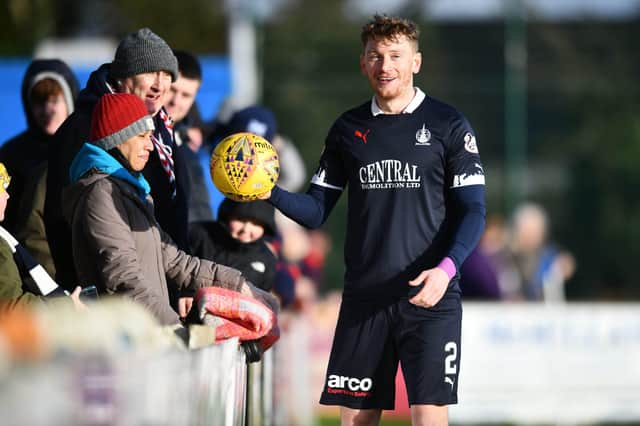 Michael Doyle. Picture: Michael Gillen.
Suffice to say I wasn't alone in my surprise when Falkirk's release list was made public on Sunday morning.
The social media reaction to the departures of Denny Johnstone and Ian McShane pretty much matched their careers at the club and their input to the season just passed. Barely mentioned. Fleeting to say the least.
But losing Gregor Buchanan and Michael Doyle - a pair who had shared 72 appearances last season, completing all but one of those matches in their entirety – was a surprise.
Sports Editor David Oliver
Two defenders down from the starting line-up, and a club captain too. Not easy to replace. But not only that, Falkirk, and the fans, have lost two players who just got it.
Michael Doyle was on these very pages a few months ago telling how he always had time for young supporters no matter his mood or result – because he too was once a young fan.
Gregor Buchanan got it too. Handing out the captain's armband at the end of every game, win lose or draw, it made many fans' day and brightened up a defeat or draw and capped off a win as even more memorable.
Gregor Buchanan grew up watching Falkirk at Brockville. Picture: Michael Gillen.
Doyle got what it was to be a young fan, and took his job as a privilege. Buchanan got what it was, and is, to be a Falkirk fan, and never understated his privilege at leading his hometown club.
Falkirk, like always, wished them well and will be quietly hoping Buchanan, Doyle or Louis Longridge don't come back to bite, because decisions made in 2017 are beginning to.
After deciding to close the Academy several players reluctantly left the club but defender Yusuf Hussain has gone on to sign pro terms with Motherwell. followed by Kieran Offord with St Mirren.
There's high hopes for the pair, and former team-mate James Maxwell at Rangers too. All cut from the pool in2017, but their later success has come as no surprise to those who coached and knew them.
Louis Longridge. Picture: Michael Gillen.