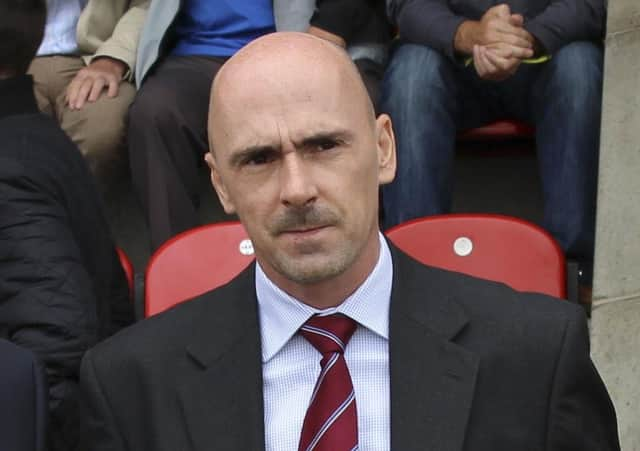 Stenhousemuir chairman Iain McMenemy.
Work is underway to get Ochilview Park ready for football.
We anticipate that community football will be the first to return as the Government continues to relax the lockdown conditions for young people. We can't say exactly when we will be able to get our community football programme back up and running, however, we do hope this will be quite soon, and certainly within the summer window.
We already have extensive plans in place to have our ground broken down into training areas that will allow small groups to train with coach instruction and supervision. Once the Government rules allow for groups of more than three households, then we should be up and running. We have invested in sanitisation and PPE equipment, and we have been working very closely with the football authorities to establish the correct procedures and protocols to ensure we can return safely.
We know that there are lots of parents out there who want to see their kids back playing sport. Hopefully, this will be able to happen within a matter of weeks.
Professional SPFL football is set to return on Saturday October 17th. We expect the fixture list to be published by the end of July. Football fans are desperate to see the Scottish game return and we know there are many Stenhousemuir fans keen to see the season kick off.
Regrettably, the SPFL has decided to stage the first Old Firm match on the same day as the opening matches in the Championship, Leagues 1 and 2. No doubt, all the headlines will be about the Old Firm, when it should be about Scotland's 30 other teams getting back to football, having all battled hard during the pandemic to keep their clubs in business.
That being said, I know our keenest supporters will have all eyes on Ochilview and will be more interested in seeing how our new line up performs in League 2 action.
There's quite a bit of maintenance work being undertaken at the club right now as we bring the place back to life after the shutdown. We have an army of volunteers who are all helping out, socially distanced of course. We also plan to carry out some ground improvements as we continue to grow the club and take us to where we want to be. October seems like a long way off, in reality, it will be upon us before we know it.