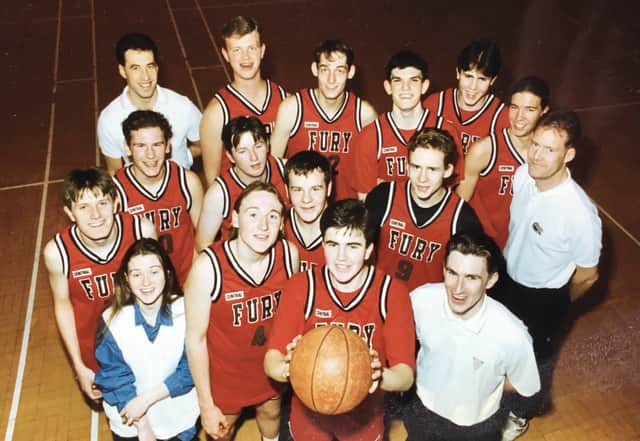 The early days included now familiar figures such as c;lub captain Keith Bunyan and headcoach John.
As Michael Jordan was fighting for his second NBA championship, a group of Falkirk High School pals had just formed their own 
basketball team.
Falkirk Fury joined the Scottish National Basketball League in 1992, and not even 30 years later have produced 38 title wins and hundreds of national players.
At the start though, it was just a bit of fun. "The original Fury was just me and my pals," said Falkirk-local Gordon Jack. A school programme introduced them to basketball in the late eighties: "It was just 'try a sport,' but it was great," he said. It was social. It was a laugh. "We probably didn't take it that seriously at the time," Gordon explained. "It was very lackadaisical."
Fury landed their second national men's title in dramatic fashion in Portobello back in 2013. Picture: Gary Hutchison
This was true for basketball as a whole in central Scotland. There wasn't a professional local team, Gordon said: "There wasn't Sky TV. You watched the NBA playoffs on the BBC on a Saturday night at 11pm. You got an hour of highlights and that was it. Nothing else.
"It was just a sport that you played," so they did. They played in the under 16s, they played in the under 18s, and after that there was just one place to go: the national league. "It was just another level of playing basketball. It was another excuse to go and play," Gordon said.
Players and coaches scoured the catalogue of American teams, eventually finding the Fort Wayne Fury. They borrowed their name and red strips, and in 1992, the Falkirk Fury were born.
It was perfect timing as an air of excitement had surrounded basketball. "The example I always use is that my gran knew who the dream team were," Gordon laughed, recalling the 1992 US Olympic team. "My gran knew Michael Jordan."
A ladies section has grown into a great success with Jen mcLaren lifting the Scottish Cup in 2015. Picture: Scott Louden.
The town had an unkindled love for basketball according to Paul New, sports editor of the Falkirk Herald in the 1980s. A previous basketball team, Falkirk Solripe, "brought excitement and really benefitted the town," he said. "The people of Falkirk really took to basketball."
This was amplified by Fury's flying start. They began in the Scottish junior league's division two, and quickly proved themselves to be a top contender, going undefeated in the regular season.
They only tasted defeat in the cup semi-final against the Glasgow Brightsiders: division one champions and eventual tournament winners.
"We were a fantastic team," said John Bunyan, Falkirk Fury's head coach. John was the driving force behind the team, and his son Keith, a national player at 15, was one of Fury's core members.
The Junior ranks have developed players who have represented Scotland at the Commonwealth Games. Picture: John Devlin.
Scottish basketball underwent several changes in the nineties and Fury immediately felt that burden.
Though due promotion into division one, the two groups were combined into a single under-23 league. Just in their second year, Fury were a very young team. Keith was only 17 and his team-mates were just a couple of years older. The odds were against them, playing opponents with much more experience, but "we were always in the top two or three, and we'd got to a couple of cup finals," John said.
"This really became the best league in Scotland."
Scottish all-stars like the late Robert Archibald, the only Scot to ever play in the NBA, started out in the under-23s. It became the stage for fierce competition, and Fury pushed their way to the top.
Head coach John Bunyan and assistant Stuart Munnoch. Picture: Lisa McPhillips
In 1998, "as we were about to become the best team in the league," John explained, "Basketball Scotland pulled the plug on their under-23s."
The senior league had struggled for numbers, so the under-23 was folded to supplement it. This didn't slow Fury down though.
"Incredibly, within two years we won the men's league," John said.
This win solidified Falkirk Fury as a powerhouse in Scottish basketball, and they only grew stronger.
They expanded their programme and now have 16 teams, ranging from under-10s to senior.
The club helped develop leagues in surrounding schools as well. "We've just been building," John said. "It's not just the club, it's the entire area of Falkirk."
Basketball has been popular in Falkirk sicnce the days of Team Solripe. Seen here with coach Kevin Cadle and sports editor Paul New at a reunion in 2013. Picture: Michael Gillen.
They've extended much further too, as John helped coach teams in the United States and Europe, and brought coaches back to Falkirk to help his players grow. They've even travelled to Belgium several times to compete.
John considers them a very multicultural team, with nine international members in the senior men's team alone. Stars have been produced much closer to home as well, of course, with their most famous being 2012 Olympian Kieron Achara, from Stirling.
Kieron played on the winning 2000 team, and appreciates the club's support for Falkirk and the overall basketball community.
"Fury has helped so many young people love the game," he said.
He knows this from personal experience.
"The club helped me fall in love with the game of basketball," Kieron explained, "and more importantly made me a better person."
John believes in this too. "The big thing I've realised over the years is that it's not just about basketball, it's about life," he said. Playing basketball teaches his players valuable skills like teamwork and self-discipline.
"I couldn't have ever predicted [the success]," John continued, "and it's all down to the players at the end of the day.
"It all came from that group of Falkirk High School players," he said, reminiscing.
"I remember thinking, 'these kids are pretty good.'"