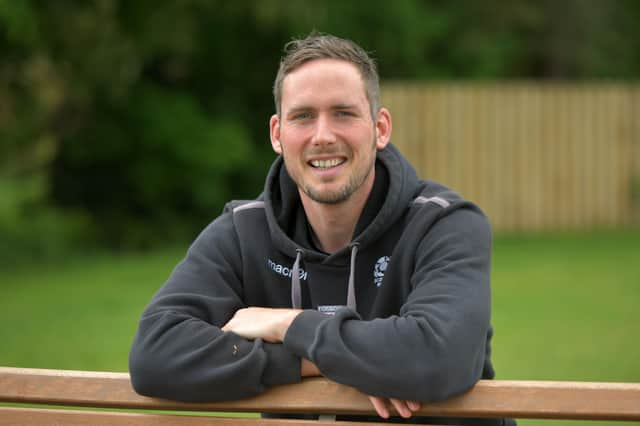 New Grangemouth Stags Rugby Club Head Coach, Chris Lawson. Picture: Michael Gillen.
National Division rugby at Glensburgh is the ambition for Grangemouth Stags' newly appointed head coach Chris Lawson .
The 34-year old Galashiels native was the preferred candidate to replace Craig Deacons who is departing the port side for a role with Stirling County.
Lawson comes in to the club on the back of a spell with local rivals Falkirk as coach and latterly as a player.
Glensburgh. Home of Grangemouth Stags. Picture: Alan Murray
As well as his time in charge at Sunnyside the former Gala winger also had three years with Stags' Caledonia 1 rivals Garioch in Inverurie on top of his 12 years working for Scottish Rugby as a Development Officer.
In these unprecedented times it has been an unusual process for the club to appoint a new coach but they have their man and Lawson spoke to The Falkirk Herald about his goals for the club.
He said: "It was a two stage process with the interviews being done over Zoom.
"I put my vision to them about how I wanted to develop the club and the players then the second stage was me putting together a presentation about how I would implement that vision."
Outgoing Stags coach Craig Deacons.
As head coach at Falkirk, Lawson worked with a large pool of players with the 1st XV competing in National Division's 1 and 2.
Now, with a tighter knit group of players, he is looking to build on the work done by Deacons and the committee in previous seasons to get Stags in to the national divisions for the first time in over a decade.
"At Falkirk we were putting out three teams at times whereas at Garioch it was more like an extended first team, a tight knit group same as at Grangemouth.
"It will be a challenge to regularly put out two competitive XVs with guys doing shift work but we are looking to do it.
Lawson is a former coach of neighbours Falkirk. Picture: Michael Gillen.
"It's important to me to have two full squads training and playing as it will increase the standards.
"We're looking at potential promotion to National 3 by winning Caledonia 1.
"The club have done a fantastic job of developing the facilities and making an environment where people want to be.
"Now it's about building on that and continuing to develop that culture – making it a place where people want to come to play rugby.
"There are lots of higher division clubs who don't have facilities as good as Grangemouth and we want to get to a point where we match that up."
Lawson's plan for success and developing his squad will be built on one group of players rather than two clear XVs.
"It's about developing the culture and competition for places.
"Ultimately, we need guys training more regularly and fighting for places.
"Players need to want to be the best they can be, not that they don't already, but we need to work on that and increase standards.
"We want to create an inclusive environment where everyone is equal, we won't have a model of a clear 1st and 2nd XV, it will be one squad to create an environment where guys want to better themselves.
"We cant' get to a point where there is no challenge for the person playing in the first XV.
"People are motivated in different ways and it's important to drive a culture where you have to work hard to keep a hold of that first XV jersey."