Grangemouth Stags 17 Alloa 0: Early finish in Storm Dennis
A miserable game played in miserable conditions and will not live long in the memory, but the points will stay with the Stags.
Tuesday, 18th February 2020, 10:19 am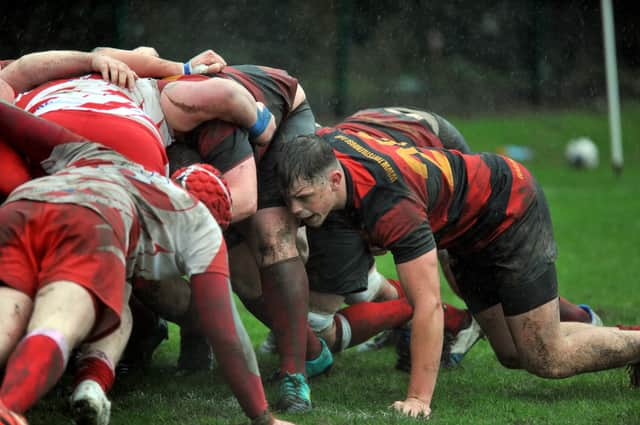 Conditions were horrible for players but they still gave their all. Picture Roberto Cavieres.
And while Grangemouth were pleased to have completed the match, preventing further fixture congestion in an already protracted season they were disappointed at being unable to collect the four-try bonus point and have to learn to play territory in difficult conditions like these.
Larbert High School was the temporary venue with the pitches at Glensburgh waterlogged and Storm Dennis raging.
The Stags had the advantage of the wind in the first half. However in the opening quarter they failed to play for territory and made numerous handling errors in the conditions. On 20 minutes they finally pinned Alloa deep in their 22. The visitors conceded a couple of penalties at scrum time and from a reset scrum Harvey picked up and bulldozed over the last defender for the opening score. Skelton added a difficult conversion in the wind.
Grangemouth Stags v Alloa. Picture Roberto Cavieres.
Grangemouth continued to try and run from deep. Kinnear had a good run and Harvey had a couple of strong carries. On 30 minutes another Harvey run took play to the Alloa 22 and when the ball was recycled Skelton kicked through for Allan to win the foot race for the score and a half-time lead of 12-0.
Both sides agreed to a quick turnaround at half time and the game continued in a similar manner to the first half with Grangemouth dominating possession but unable to cut through the Alloa defence. On 50 minutes Harvey picked up from a scrum and the ball was moved to Skelton who slid in at the corner, The skipper was unable to add the extras.
With 10 minutes to play the referee decided that the conditions had deteriorated and the pitch was now unplayable and after discussions with the captains and coaches ended the game early.
The club has extended thanks to Larbert High School for use of the pitch and a special mention to the loyal band of supporters who braved the elements to support the team.
The game moved to Larbery High School. Picture Roberto Cavieres.
This week the 1sts and 2nds make the short trip to McKane Park to take on Dunfermline with KO at 12pm to allow players and supporters to watch the 6 Nations games in the afternoon.
With conditions deteriorating, the match finished early. Picture Roberto Cavieres.