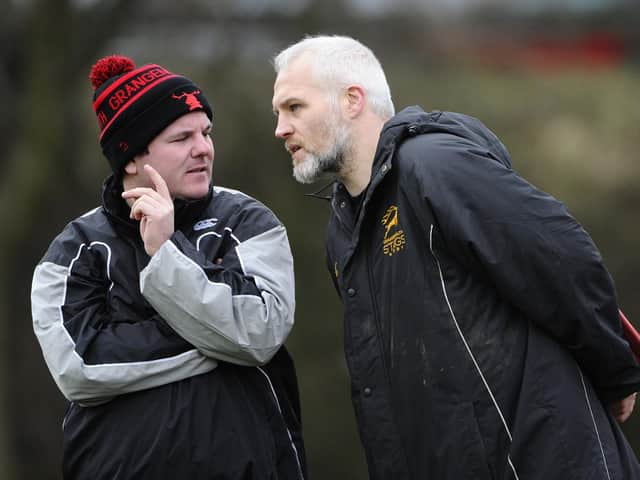 Outgoing Grangemouth Stags head coach Craig Deacons (right) will be moving to Stirling County next season with the club currently taking applications to find his replacement
The committee at the club have conducted the first round of interviews with prospective candidates with the second round taking place this week.
The Caledonia Division 1 side are looking for someone to replace the outgoing Craig Deacons after four years at Glensburugh.
Deacons is moving on to Stirling County to take up a job coaching their Wolves side next season.
Speaking to the Herald, club president Alan McKenzie said: "We have had the first round of interviews and are looking to have the second round this week.
"Hopefully we will be in a position to appoint someone in the next week or so.
"We spoke to five individuals , we got numerous applicant from all over the world."
Like every other club across the country the Stags are still in the dark as to when they will be back training and playing.
There has understandably been no recent update to clubs from the SRU in regards to when they will be able to kick off next season.
"We're still waiting on any news from the SRU," said Mr McKenzie.
"We don't expect to hear anything over the next couple of months.
"We would be due to start in August but I can't see that happening.
"World Rugby are talking about testing and all sorts of things but that's for the professional game.
"It looks like we will be in limbo about this for a good few months.
"We had a virtual committee meeting last night to discuss a few things.
"The club finances are okay up to a point and in the next few days we will send out a letter to our members to update them."
The Stags have now not been in action for two months with their last game taking place on Saturday, March 7 as they lost 46-13 at home to Hillfoots.
Before the season was declared null and void by the SRU Grangemouth sat fifth in Caledonia Division 1 as it looked like leaders Orkney would be on their way to the title.