Whopping 95-point win for Fury's U16 Cadettes team
​Falkirk Fury saw their U16 Cadettes continue their unbeaten start to the season and move to seven wins on the spin with a huge 95-point victory on the road in Aberdeen.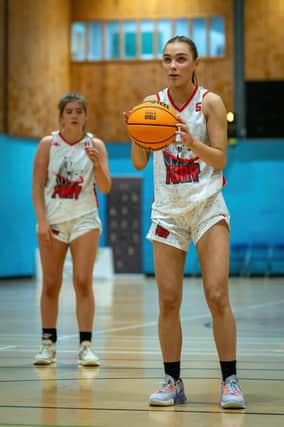 ​That 115-20 win means Fury stay top of the Scottish CW Division 1 and – for Kim Hunter's side - it took their average game points scored for the season to 82 for with just 33.7 against.
The team were 29-6 up after the first quarter, and Fury then continued to put points on the board, rotating players throughout. Rachel Dagger top scored with 35 points personal, with Beth Sneddon on 34 points. Poppy Duncan had 17 points with Kyla Torrance on ten points.
For first year players Leila Gillespie and Hannah Johnson, this was an opportunity to get court time with Gillespie playing 24 minutes and Johnson 17 minutes, with both getting on the scoresheet.
It also saw a 20-minute spell on court for Ruby Hepburn as she continues to develop her game, with Daisy Lawson completing Fury's starting five. Jess Cram was first into the action off the bench, in what was a solid team performance overall.
Looking ahead, Fury's U16 Cadettes have no game this weekend, although at least six of the team will be in action at the junior women's Scottish Cup quarter-final which tips at 2.30pm on Saturday at Grangemouth Sports Complex against St Mirren.
Preceding that game will be Fury's senior women league match, which is also against St Mirren. That one tips at 12.30pm and spectators are welcome to both games.
Menawhile, ​Falkirk Fury's youth teams had mixed fortunes in their Sunday road games at the Peak SC in Stirling, taking a win in the cadet men's game and a loss in the table-topping junior men's game.
Fury's CM played extremely well as they cruised to a 31-point win and now move to third spot in the Scottish Division 1 with a five wins and two defeats record. A stunning second quarter proved to be key with a 26-13 scoreline for the Falkirk side.
That added to a 55-point lead from the opening period for an 18-point half-time lead. Fury were 20 clear going into the final stanza, with Ewan Carlow running his bench in the final minutes.
Fury had four players in double figure scoring with first year ace Taylan Ertekin, playing his best game of the season and sharing 32 points with Gavin Black at 16 apiece. Andrew Henderson had 15 points with Jack Robertson also having a strong game on 14 points. Fury CM are not in action this weekend.
Meanwhile, Fury's JM suffered a big loss to Knights in a top-of-the-table clash. That defeat moves Fury off the top of the Scottish U18 JM league to a log-jammed second spot where no fewer than four clubs sit with five wins and three losses.
The 102-65 scoreline saw Fury continually beaten in transition with the Knights racking up 31 points in the first and fourth quarters.
Only first year junior Dylan Low and his brother Alex hit double digit scoring with 15 points and 12 points respectively.
Fury will now regroup as they prepare to face St Mirren in the Scottish Cup.