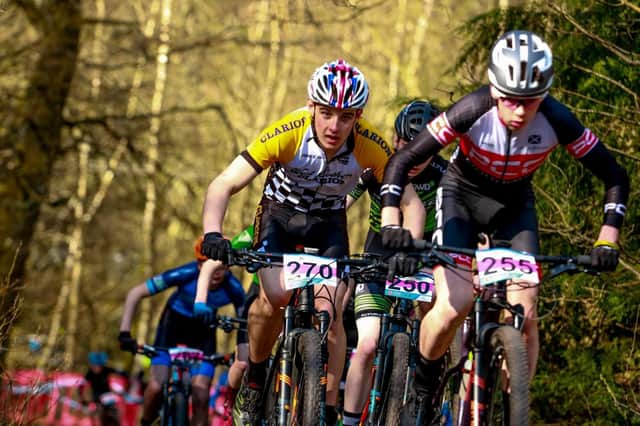 Andrew Turner in race action (Pic by RU Johnson)
Clarion president Diane Clayton-Chisholm said Linlithgow Academy students Sam Chisholm (Diane's 17-year-old son), Andrew Turner, Katie Galloway, Finn Mason and Evan McKenzie will join Falkirk High School clubmate Gregor McPhaden in trying to do this assignment by mid-May.
"All these kids compete at a Scottish and British level," Diane told the Journal and Gazette. "But because of Covid they haven't been able to do any proper racing in recent months.
"We are taking advantage of the easing of lockdown to allow us to gather again as a small group.
"They are relieved to get an opportunity to showcase their skills and expertise and gain this qualification.
"Exams for kids, including the Scottish Qualifications Authority assessment opportunity, are all completely different this year. If you are doing PE at Nat 5 or Higher, one of the criteria is that you have to video a one-off performance.
"You can't edit it, you can't cherry pick out good performances. It's a one off performance and that forms evidence of your portfolio for your qualification.
"We have a number of members who are sitting Nat 5s and Highers. They have not had an opportunity to race if they've chosen cycling as their sport for PE.
"Because there's been no races, they don't have any evidence for their portfolio. So in the next three weeks we're going to be putting on an assessment opportunity for our riders so that they can gather the evidence they need for their SQA PE qualifications.
"It won't be a long distance cycle but wht the SQA look for are things like decision making. Say you set out with a plan and your plan can't be executed because you get a puncture or a rider in front of you crashes.
"What do you do? How do you make your decisions?"
Clarion officials are awaiting confirmation from the government on when all club racing can resume.