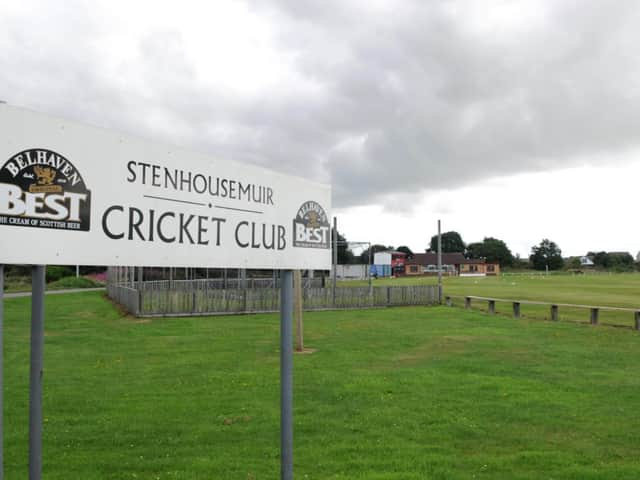 Stenhousemuir Cricket Club were supposed to play their first pre-season friendly last weekend ahead of the season starting in May
Steven McLaren, who is currently both the club secretary and treasurer, told the Herald that they are losing out on income each week just as the club were due to begin playing pre-season friendlies.
Normally the club would expect a busy bar full of members during match days so are losing out from that as well as the number of event bookings at the club house which have had to be cancelled or postponed.
"We're missing income from the bar and the club house losing out on bookings," explained Mr McLaren.
"We had a local band due to play just before lock-down and that was sold out which we had to refund.
"We have a beer festival in August as well and that's in doubt.
"We're losing out money-wise just as every club is.
"Every week we have a core number of the membership for whom the club is their watering hole so we lose out but you weigh that up with not having bills from electricity etc as well.
"We've not received fees from the players because they're not playing, right now they'd be training and building up to friendlies.
"At the moment we have made no demands of people to make membership payments, that will be made once we get back to playing but right now we're not in a position to make that decision."
On the playing front, the club are in communication with the Western Cricket Union and Cricket Scotland but have had no indication when, if at all, the season could potentially begin.
"I'm going to write to Western Distirct Cricket Union to try and get a steer as to what is happening.
"We would have played our first friendly last weekend and the league would be starting at the beginning of May and the longer this goes on the further back the start date will get shoved..
"I personally don't see us having enough time to complete a full season. .
"I don't know what they (WDCU) are meant to say, nobody is a point just now to make a call.
"There's no communication because I don't think they know what their doing, that's not anybodys fault or anybody being incompetent, they just literally don't know.
"All we can do as a club is to make the best of things as we can."
A stetement from Cricket Scotland released to (Thursday, April 23), said: "The Board has been looking closely at what can be done to support cricket clubs in Scotland, the bedrock of the sport, to come through the crisis.
"Those clubs will be important contributors to the restoration of the wellbeing of the nation when life returns to normal."
You can read the full Cricket Scotland Press Releases HERE.