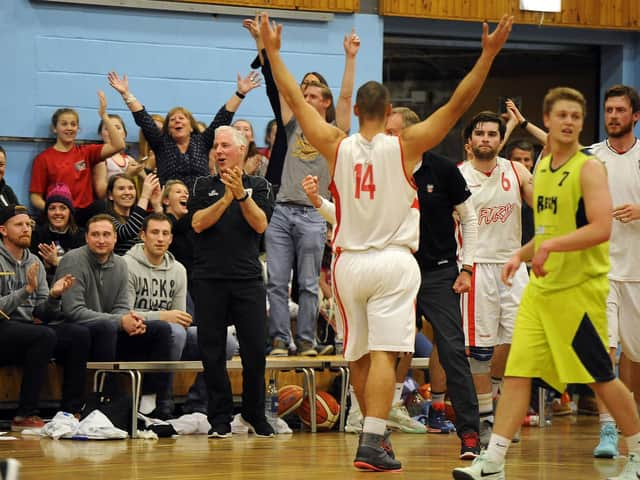 Fury and their fans will be celebrating again when the trophy comes back to town. Picture: Michael Gillen.
Fury had been in pole position for weeks, holding the upper hand on rivals St Mirren with a better head-to-head record against the paisley side.
All John Bunyan and Gordon Munnoch's side had to do was match the Saints results, or better them, to become champions and that's what they did with a week of the season to spare.
Fury defeated Edinburgh Kings in the capital on Friday night to move clear at the top. St Mirren then lost to DUnfermline Reign on Saturday meaning the best they can hope for is to move level on points this weekend, and would still lose out as Fury have a single basket advantage over their combined scores from two league meetings this term.
The league title is the club's fifth in eight seasons and comes a week after the Falkirk side saw off Reign at Grangemouth Sports Complex, and the Fife side bounced back against St Mirren a week later.
Fury Headcoach John Bunyan said: "The whole team and our fans will be celebrating today and rightly so - we have produced some great basketball, played as a team with great chemistry - we are a team of many countries and its been a pleasure coaching such a talented group.
"Incredibly we take the title after last week beating Reign by 36 points - so full credit to Reign for bouncing back and handing the league to Fury!
"I want to thank the fans and FCT for making our home venue the best in the country and our Captain Keith for being an inspiration to his teammates and the club. I appreciate all the compliments the team have had from many different people throughout the season and we want the season to end on a further high in the Play-Offs."
The trophy is expected to be presented to the club next month, either at a glmaour friendly with the Scottish professional side, Glasgow Rocks, or the first home game of the play-offs.