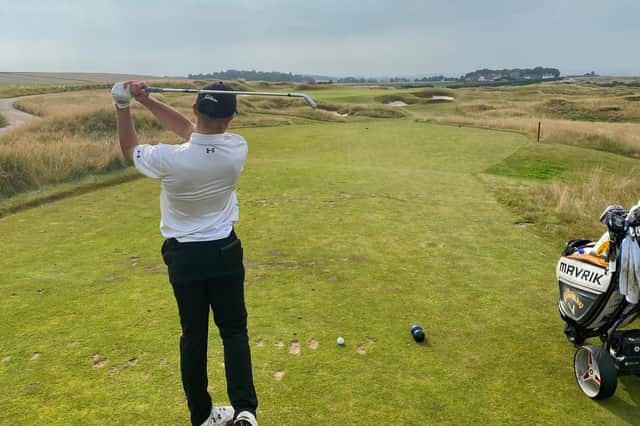 Fraser Gardiner
Fusion, who own and operate Old Churches House in Dunblane, are headed up by Group Managing Director Alex McKie, who is himself a keen golfer, and were happy to progress the deal, and support Fraser, who lives in Airth and only turned pro last September.
It will see Fraser, who still practises every night at Forthview Golf Range in Airth, where he is coached by the owner, Stewart Craig, represent Fusion at a number of events on both the PGA Assistants Tour and the Paul Lawrie Tartan Tour.
Well known at clubs around both Falkirk and Stirling, Fraser began playing as a youngster at Falkirk Golf Club, going on to enjoy great success as an amateur.
2013 saw him win The Spence Trophy Order of Merit, the Junior Scratch Championships in 2019, the Winter Scratch Champion, The Antonine Scratch Championship, and finally, the Wilson Trophy, a team event played with other clubs around the area.
Also playing county golf with Stirlingshire Golf Union for nearly five years, Fraser won the junior championship, the Champions Summer Trophy, was third in the Winter Series 2018 and 2019, and reached the quarter finals of the County Gents Championship at Grangemouth Golf Club.
"It wasn't the best timing, as I was expecting the whole season to unfold, but I knew I would really enjoy it at Canmore, as it's a great club.
"Together with Fraser Rummins, we're doing our very best to create a superior golfing experience for our members. Despite all the uncertainty last year over Covid19, it was the right decision for me to turn professional, and I have not turned back.
"I now study the game as well as playing it professionally and do all my studying and training at Canmore Golf Club. I'm delighted to say that during my first season at Canmore, when I was still an amateur, I managed to reach the Semi Finals of the Gents Club Championships."
Alex McKie added: "We are delighted to lend Fraser our support at this time.
"Having taken Fraser out for his first round as a boy, I'm obviously delighted to see him turn professional, I know how talented he is, and that he will be a worthy ambassador for our business."