Local teens chosen for Sports Panel
It's game on for two young people from Falkirk and Larbert as they're among 20 from across Scotland named as members of Sportscotland's next young people's sport panel.
Thursday, 26th November 2020, 3:19 pm
Updated
Wednesday, 2nd December 2020, 8:52 am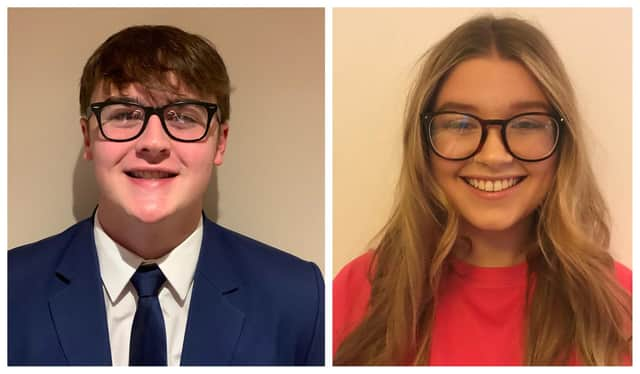 Tilly O'Donnell from Larbert and Cameron Stewart from Falkirk have been selected from 172 applicants to be part of the fifth cohort of the Young People's Sport Panel
Larbert's Tilly O'Donnell and Falkirk's Cameron Stewart have been selected from 172 applicants to be part of the fifth cohort of the p anel and will serve on it for the next two years.
The group will now work to provide a voice for young people to influence and shape the future of sport in Scotland and raise its profile.
Crucial to the programme, led by S portscotland and supported by Young Scot, is that young people are heard and have the opportunity to influence decision- making and drive change.
Tilly is a Larbert High School pupil. She swims for Falkirk Otters Amateur Swimming Club , coaches at Tryst Community Sports Club and is a swimming teacher for Falkirk Community Trust.
The 17-year-old said: "I'm absolutely delighted to have been selected for the panel. I can't wait to meet the rest of the panel and be involved in implementing real change for sport in Scotland.
"Sport has helped me grow so much as a person and I hope to show others that it can do the same for them."
Cameron, at Larbert High too, is head coach of Falkirk Fury's cadet men second tea m, and he plays for the basketball club as well as Falkirk Tryst Golf Club.
Cameron, also 17, said: "I'm absolutely over the moon. I can't wait to get stuck in, meet my fellow panel members and, as a team, work together to make a significant impact on sport nationwide."
The recruitment process began in January when applications were submitted by 172 young people between the ages of 14 and 23 from 29 of the 32 local authority areas.
Interviews were delayed due to covid-19 but the first interviews took place online in July, with second interviews in September.
A National Lottery-funded programme, the panel is part of Sportscotland's commitment to provide a legacy of confident and well-trained young people to become the next generation of leaders to help take the nation's sporting system forward.