Local runner Olivia Vareille raises over £2000 with charity half marathon
A local runner recently completed a solo half-marathon for charity in memory of her grandfather which has so far raised over £2000.
Wednesday, 17th February 2021, 10:38 am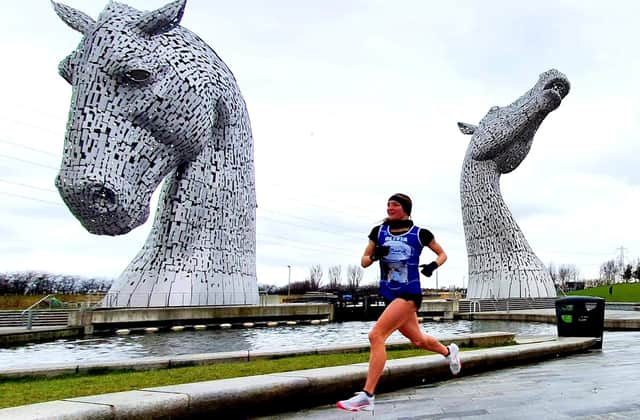 Olivia Varellie began her solo half marathon at The Kelpies and completed it in a time of one hour, 23 minutes and 51 seconds
Olivia Varellie, who is a member of Falkirk Victoria Harriers, completed the run in an impressive one hour, 23 minutes and 51 seconds.
It was a new challenge for the 20-year old as she set off from The Kelpies heading towards the Falkirk Wheel and finishing up at Croy Quarry, with her normal distance being the 800 meters.
However, like so many other athletes in lockdown she has been left without organised competition and saw the perfect opportunity to challenge herself while also raising money for a charity close to her.
"My grandad recently passed away due to mental health issues and I was really upset so wanted to do something for him and to help others," explained Olivia.
"I feel like so many people will be in similar situations at the moment, losing friends and family who have struggled with mental health and this not only gave me the chance to help them by raising the funds but also to help my own family.
"It gave us all something to work towards and look forward to and my family have been so supportive in helping me do this."
Right beside Olivia during the run was her father Jerome Varellie, who football fans may remember from his time as a player with Kilmarnock and Airdire.
"My dad has been my biggest motivator," said Olivia.
"I don't think I could have done it without him because it's difficult sometimes to find the motivation during lockdown when all you're doing is working by yourself but he has been there to keep me motivated, following alongside on his bike.
"This was my first half marathon, the longest I'd done before that was a 10k.
"His coaching helped me prepare for it and he was with me the whole way on the day and I also had support from my friend and fellow runner Norrie who did the last 5k of the run with me.
"We originally set a target of one hour and 30 minutes so I'm pleased to have completed the run under that."
At the time of print Olivia's fundrasing total for Mind sits at £2,150. Anyone wishing to do so can donate to her Justgiving page HERE.