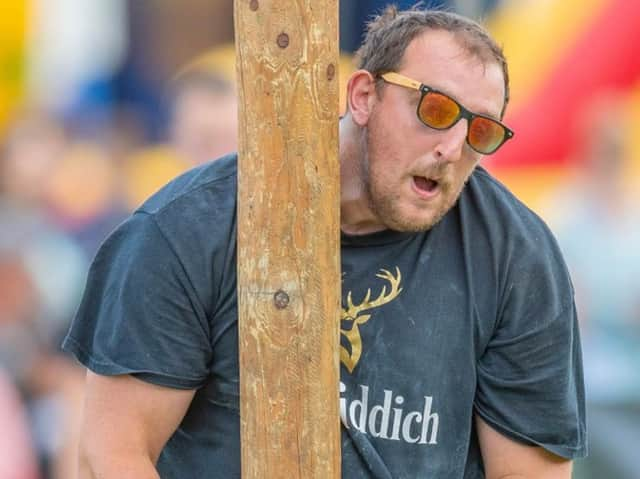 Kyle Randalls from Grangemouth stars in the documentary focusing on the Highland Games
"Home Game" is an eight episode docuseries which, by its own description, profiles unique and dangerous traditional sports from around the world, as well as the communities and cultures where they thrive.
Randalls, originally from Grangemouth but now living in Maddiston, was one of the stars of episode two which focuses on the Highlands Games, specifically the Grampian Series leading up to the Braemar Gathering.
The 28-year old spoke to the Falkirk Herald about how he was first approached by representatives from the California based streaming service and the reaction since its release last month.
He said: "A casting person for the company who produced it reached out to me through Instagram.
"They had been looking for people who competed in the heavy events. They were based out of Blairgowrie so selected myself, James (Dawkins) and Lukas (Wenta) who is my training partner and said they'd be filming for around a week.
"The Highland Games is quite an obscure sport and doesn't always get the attention it deserves.
"Since the Netflix documentary came out though I've had hundreds of messages and the disappointing thing is that the Games aren't happening this summer to reap the rewards."
Like so many other major sporting competitions across the world, the Highland Games calendar was wiped out by the Covid-19 pandemic.
For Kyle and his fellow Heavy Events competitors it has seen them stuck to limited training routines where normally they would be travelling not just across Scotland but all over the world to face each other.
"It's looking like there might not be anything till next year, I was due to go to an event in New Zealand in January and even that's been cancelled," said Kyle who was also due to take part in the World Championships in Canada before this year's Braemar Gethering.
"When all this started I was sitting thinking they might need to cancel some games and that started happening and I thought we'd be getting back in August and September but then that became more optimism that it might happen and then obviously it all got cancelled.
"You put in all the work over winter, all that time and effort and not getting to showcase it is obviously disappointing.
"However, May to September is Highland Games season in Scotland but all over the world there are always games you are getting invited to.
"Right now it's looking like my next competition might be in Malaysia in February or March but there's still a question mark on that, time will tell."
Normally, Heavy Events competitors are somewhat restricted in the Winter months to a regime of weight training more than practicing throwing but Randalls has reaped the benefits of having facilities in his home town to help give him an edge.
"During the winter you do a lot more weight training but once the weather picks up you do a lot more throwing.
"Having the Grangemouth Stadium and its indoor throwing facilities has been a blessing over the years."
Now, for anyone inspired by the Netflix series who might want to get involved in competing at the Highland Games, Randalls has a message.
"One of the problems with Highland Games, which is also one of the best things about the sport, is you need the drive to go out and do things by yourself.
"A lot of people want to do it but very few of them follow through but for anyone who is serious about getting involved they can reach out to me through my social media channels and I'd be happy to help them with advice on how to get started."