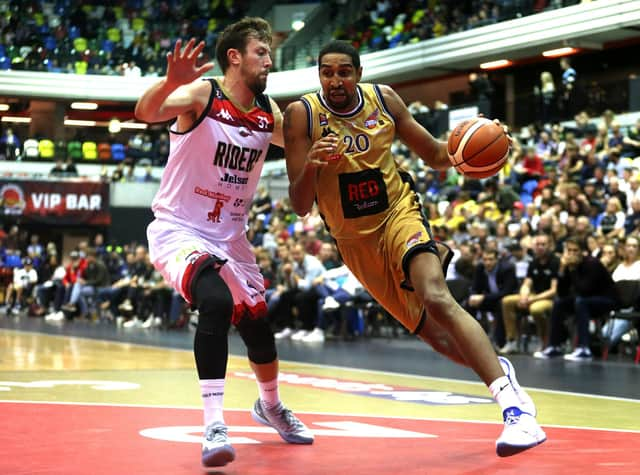 Kieron Achara in action for Glasgow Rocks against Leicester Ryders during the British Basketball All Stars Championships in 2018 (Photo by Alex Pantling/Getty Images)
However, the 37-year old was so convinced that the initial phone call informing him of that honour was a prank that he didn't tell anyone, not even his closest friends and family, until two days before the official announcement.
Achara, recognised for his services to community sport, told the Falkirk Herald he thought he was being tricked.
He said: "I first found out back in April and, to be brutally honest, I didn't tell anyone because I didn't believe it.
"It was then sent by email, you needed to fill out a couple of things and I did but then I was worried it might be a scam and they'd ask me for bank details or something!
"Then the next thing I heard was a week before it would be officially announced and I realised it was real.
"Two days before it was announced was when I told my wife because the email said you weren't allowed to tell anybody.
"It was just such a shock but at the same time I just didn't know what was going on, it thought someone was setting me up – it was overwhelming."
The 6'3 Stirling native began his senior career with Fury in 1999, aged just 17, after first joining the youth set up the previous year.
It would be the beginning of an outstanding career which took him across Europe to play for several clubs in Italy, Spain, Greece and Bulgaria as well as closer to home in Middlesbrough and Glasgow.
At national level he would go on to captain Scotland in the 2018 Commonwealth Games in a starting line-up that included three former Fury players.
The Scots reached the semi-finals and in doing do became the highest ever placed Scottish team in a Commonwealth Games.
Achara had also enjoyed the world stage in 2012 when he was selected as a co-captain for the Great Britain basketball team in the London Olympics.
Achra's GB Team played the eventual winners - the USA, which of course had a full NBA line-up, including legendary stars - Kobe Bryant, Le Bron James and Carmelo Anthony.
Fury Head Coach John Bunyan remembered Achara when he first came to Falkirk and his initial thoughts.
He said: "On first watching Kieron when he came to trial, it was clear he had a huge amount of natural attributes, apart from the fact he was at least a foot taller than every kid in his age group!
"It was former Fury Coach George Connell who had told me that he had a player at a school club in Stirling who looked to have some great potential and needed to get into a competitive environment.
"Kieron soon blossomed as a natural basketball player and I remember when he was 16 he told me he was considering taking a part-time job in Burger King to earn some pocket money.
"I told him he was going to make a living playing basketball and to instead practice and get more court time in."
On Achara receiving his MBE Bunyan added: "Kieron has had what you could only describe as an absolutely amazing basketball career.
"He has worked hard in all his basketball stops, has always appreciated his teammates, fans and has always given back to the community, no matter where he has played basketball.
"Kieron has been fortunate to have had huge support from his family with mum Marion and brother Idris really pivotal in these 20 plus years.
"He's a role model, motivator and a player who always gave 110 percent and it's been a real pleasure to have worked with Kieron all these years.
"We still have a special bond and are always looking for new ideas to keep basketball in Scotland fresh, accessible and such a great sport for boys and girls to become involved in."
That devotion to inspiring the next generation seems to have been the key factor in Achara receiving the MBE and for him it was always something he knew he was going to do during the latter stages of his career.
He said: "I loved my professional career playing overseas and touring the world.
"Then when I moved home it was more than just Basketball, I couldn't just be a player I had to try and inspire the next generation and I felt that would solidify my career.
"Being honest, trying to do work in the community you're just trying to help people be successful and let them know they can be whatever they want.
"John and George were the people who really inspired me when I was younger not just to be a successful player but to give back.
"For me they are even more deserving of these accolades so there is an element of guilt that I get recognised when they don't.
"I wouldn't have received this award if it wasn't for guys like them inspiring young players every single day for years to be their best."
Now retired, the former Scotland captain is firmly focused on doing everything he can to give back after such a successful career.
He said: "Right now I'm the patron founder of Rocks in the Community which uses basketball as a tool to help change young people's lives.
"That's something I will be a part of as it continues to grow, I really believe that sport in general, not just basketball, helps young people to dream that they can achieve something special.
"I've noticed a lot of kids lack self belief and are apathetic about the future and I believe sport can give them the belief that they can achieve great things, that they have a lot to live for and can be as successful as they want to be."