Falkirk Vics boast impressive medal haul from cross-country championships
​The old Lanark Racecourse burst into life earlier this month as over 1100 athletes took to the course for the Lindsays National Short Course Cross Country Championships.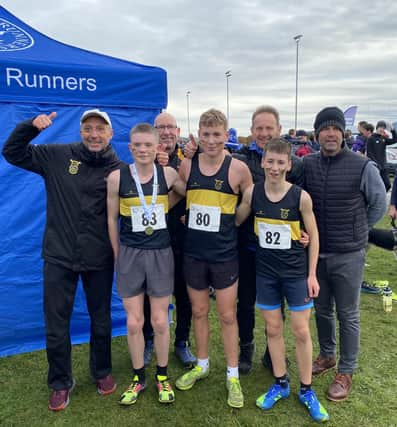 Great weather combined with favourable conditions underfoot on the flat course made this event all the more special.
And Falkirk Victoria Harriers had a worthwhile trip, coming home with a gold and two silver medals for the individual awards and also team silver. Ray Taylor (U15) maintained his current form in a very close fought 2k race featuring 78 athletes from all over Scotland, finishing second in 5:34, just one second behind first place Calum Dick from Giffnock North AC.
The U15 boys also won a team silver thanks to the combined efforts of teammates Ray Taylor, Hamish Hunter and Luke Sedman.
The senior men's race was quite a spectacle with 504 athletes powering along the 4k course. Vics' Scott Stirling was part of a small leading pack until the halfway point when he then broke free to lead right up to the final straight when he was overtaken by Central AC's Jamie Crowe to finish in 11:28, just two seconds behind first place.
The women's race featured 281 runners and Vics' Fiona Matheson ran to gold success in the W60 category, crossing the line in 15:35.
Many more Vics took part clocking up impressive times. Those who finished in the top 20 of their age category included Emily Christie (U15) 15th, Lois Cant (U17) 18th, Luke Culliton (U17) 6th, Katie Christie (U20) 9th, Olivia Vareille (senior) 18th and finally Michael McQuaid (V60) 5th.
Meanwhile, at the recent Cardiff Cross Challenge, which is part of the World Athletics Cross Country Tour Gold Label events, Scott Stirling had a fantastic 9600m race on the day, finishing a thrilling tenth overall (eighth senior) amongst an impressive line-up.
The eventual winner was 18-year-old Ugandan Keneth Kiprock who was running his first ever UK cross country event. Kiprock crossed the line in 28:32 closely followed by Kenyan Vincent Mutai representing Kent AC in 28:35.
The two were out front from the start with Stirling maintaining his place in the chasing pack throughout, and he finish strongly in 29:41.