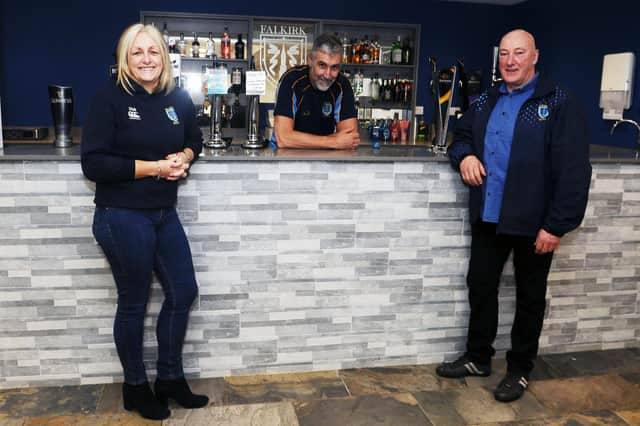 Jennifer McKenna, club treasurer, and sponsor Concept Financial Services; Bill Faulds, club President and Graham Scott, club sponsor GRS Homes
With the bar not in use, it was seen as the ideal time to finally give it a much-needed facelift.
It is hoped that the clubhouse will now be a more appealing prospect for functions for the local community.
Club chairman Bill Faulds said: "When lockdown was formally announced, we knew it would be closed so there wasn't going to be a better time to do it.
The club has spent a lot of money the past few months developing the bar and clubhouse
"Graham Scott, one of our sponsors, offered to spruce the club up back in April. When he was getting into that, we had a look at the bar and ended up ripping the whole thing out.
"Graham did the hall for us and we put money and materials and time in for the bar refurbishment and Jennifer, our treasurer, managed the project.
"With the financial uncertainty, there was a temptation to curl up small, but we got lucky as we had a significant rebate from Scottish Water, who had been overcharging us, and then there were grants available to clubs over lockdown as well.
"The grant money covered the coaching side and we were cash-positive so we knew we could use a chunk and still be secure however the season went.
The forced closure of the bar due to restrictions provided the ideal time to refurbish
"It's a case of speculate to accumulate. We weren't an appealing prospect for functions quite frankly.
"Now it's markedly better, but it's still a work in progress.
"Expanding the club isn't just about rugby but making it more appealing to the wider community.
"There's the funeral market and we've been speaking to undertakers, and once there is a relaxation in restrictions we'll look at advertising for functions."
As well as the financial gain they hope to make following the refurbishment, Faulds hopes the new-look bar and hall will bring a degree of pride to players and members on matchdays.
"It was a tad embarrassing at times. There was no shame but it had been 13 or 14 years without any significant spend.
"It's all small increments but even something like this can give the players a lift, creating the right environment and making them feel that bit prouder in the club after a game."