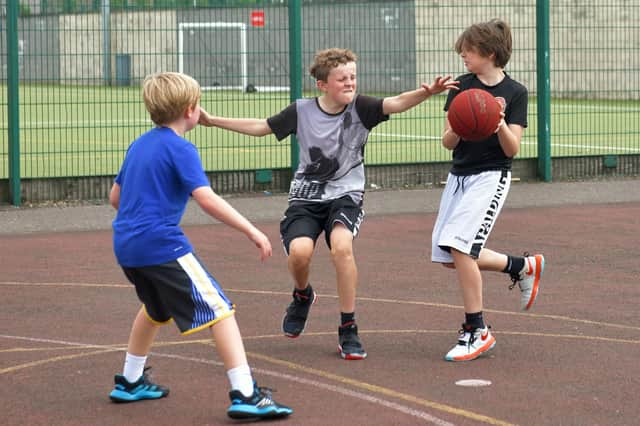 Sony Centre Falkirk Fury Basketball Club have been training outdoors for the past four months but will now return to an indoor venue
It was back on March 13 that Fury, despite being in five national semi-finals for under-16 women, U18 junior men and women and seniors of both sexes, decided it was unsafe to play their games and stopped all their 16 teams training.
When regulations and conditions made it possible to consider outdoor sessions, the club again led the way, getting what were the first sessions back in Scotland on an outdoor court, and for four months the club organised sessions for all their teams, except their seniors.
The sessions were a game-changer for the 150 players and gave them a real focus not just in their basketball again but their lives, according to Fury head coach John Bunyan.
He and 20 of his coaches led the sessions, and they were attended by literally every team member.
At the October school break and after indoor activity again became possible, Fury, still unable to access their regular training venue through Falkirk Community Trust, moved their sessions to Carronvale Recreation Centre.
The club trialled their indoor opportunity and found, as they had with their outdoor sessions and have now given the go ahead for all their teams to get back to almost full training, in an indoor setting.
The Seniors, however at this time are still awaiting that go ahead in terms of national regulations.
The players,while enjoying the different challenges of outdoor basketball, greeted the indoor return with huge enthusiasm and clearly saw a glint of hope that we might just be getting back at some stage, to even competition.
Fury Head Coach John Bunyan commented: "Keith Morrison at Carronvale has been great in helping take forward our basketball training.
"Basketball Scotland have also been very supportive since March to make this indoor situation as safe as we can, that's the first priority and hopefully encourage others to get back indoors in the correct way."