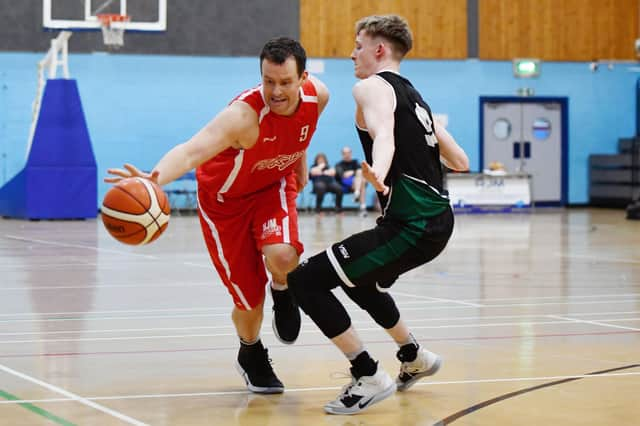 Keith Bunyan in action for Falkirk Fury last season
The 43-year old has been selected for the GB maxi squad, for players aged 40 to 45, to compete in the sport's European championships in Malaga in 2022.
Bunyan, who founded Falkirk Fury with head coach and father John in 1992, has played competitive basketball since the age of 11.
He played for Fury sides at various age groups before joining Edinburgh Rocks in 1998, spending six seasons in the British Basketball League and being part of the only Rocks side to ever win the British title in 2003.
Bunyan returned to his home club in 2005 and in 2006 represented the Scotland senior men's basketball side in the Commonwealth Games in Australia.
From 2010 to 2020, he and his Fury side dominated Scottish men's basketball, taking 12 national titles and in two of those seasons completed the treble of league, cup and play-off successes.
He has represented his country at every age group and captained the men's side on many occasions in European competitions.
Bunyan has shown his longevity by taking the current men's team to their 13th national title in season 2019-20 when they won the Scottish league championship, averaging 22 minutes and 15 points per game.
"Being a part of the GB maxibasketball squad and having the opportunity to represent my country again is an incredible opportunity and privilege," said Bunyan.
"For nearly 40 years, the sport of basketball has been an enormous part of my life and, with the opportunity that the maxibasketball programme has given me, I hope it can continue to be a part for many years to come.
"I welcome the governing body's recognition of the GB maxis' performance programme and them supporting squad members in their ongoing international journey."
His dad John added: "Keith is as committed today as he was at any time throughout his career.
"His work ethic is second to none and his ability to shoot 3s is also second to none in Scotland.
"Keith continues to captain our men's team to success and is an inspiration to all our players."