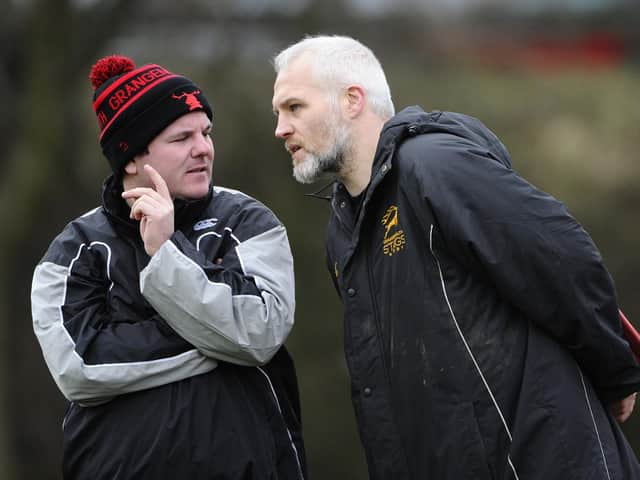 Outgoing Grangemouth Stags head coach Craig Deacons (right) will be moving to Stirling County next season with the club currently taking applications to find his replacement
The Caledonia Division 1 side are looking for someone to replace the outgoing Craig Deacons after four years at Glensburugh.
Deacons is moving on to Stirling County to take up a job coaching their Wolves side next season.
Speaking to the Herald, Club President Alan McKenzie said: "We've had a run of six weeks or so since Craig announced he is leaving.
"The closing date for applications is not till next week and because we knew in advance our coach was leaving we've had more time than we might normally have.
"We've got a few names in and we will look at that in the early part of May and will work something out to get a coach in place before when we would normally plan to start pre-season training.
"We want someone who can build on the work done already with previous coaches over the last few years.
"We've got ourselves in a decent place over the last few years, we've got some decent players and want someone who can bring them on even further than we already have."
McKenzie also spoke about the impact the current Covid-19 crisis and UK lockdown is having on the club.
"All we can do is wait and see what happens over the next few months.
"We still have to plan for a July/August pre-season and September restart but obviously that's up in the air.
"We recently got an update from our Regional SRU Manager, just being in touch to say they are still there if we have any issues.
"There's no income coming in from the bar and clubhouse, we didn't have too many functions in the diary when we had to close but anything we did have had to be cancelled.
"The end of season dinner has had to be cancelled and various other things that would be a bit of money making has had to be stopped.
"The local community also use our gym and that's obviously shut as well so we've had to pause their membership.
"We've tried to eliminate as much expenditure as possible but there is still some outgoings from the facilities.
"We haven't stopped membership fees as such, some pay an annual subscription which gets them the gym part at a reduced rate.
"People tend to pay their fees at different times of the year and they've been left running at the moment.
"As for the club members that goes to the running of the club for the whole year so we'd expect those paid."
The SRU made the decision earlier this month to end the current domestic rugby season and declare it null and void.