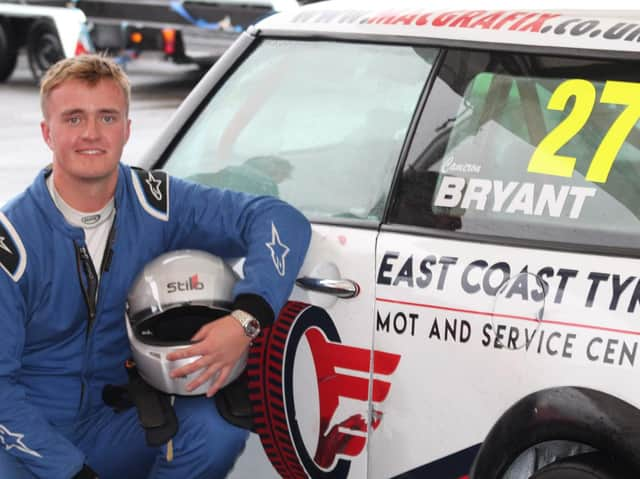 Cameron is being sponsored for the season by East Coast Tyres and Johnston Smillie Ltd. He thanks them for their support in these difficult times.
Cameron, the brother of double Scottish Fiesta champion Rory Bryant, is confident of steering his Citroen to glory in 10-lap contests being held this autumn.
"The aim is to win the championship obviously," Cameron (23) told the Journal and Gazette.
"This is my third season racing – but my first full season.
"I started racing in 2018 and I only had the budget to do two race meetings but we did really well.
"I was on the podium, in second place, at my first ever race meeting.
"So I believe that I definitely have the ability to do well.
"The second season we only had half the season – we only had four races – and it was a bit of a nightmare.
"We didn't have the budget to compete and we had loads of mechanical issues.
"So this season – backed by Edinburgh College – I'm trying to win the championship.
"We can run within our budget more with a good car.
"We had a test at Edinburgh College last week and the car was really good. I'm quite confident in the team and the car.
"I feel that this extra time over lockdown has actually given me quite a lot of time to prepare and mentally ready to crack on with the season."
With two races held over each of the three championship rounds in September and October, it's a short season for Cameron and around 30 rival drivers.
The local man, who graduated in International Business Marketing from Heriot-Watt University last year, worked as a full-time racing instructor towards the end of 2019. He then started a sales job from which he has since been made redundant.
"I'm pretty much self employed now," he said. "I'm working part-time for my dad's landscaping business and racing instructing has also just started again so I'm working for a supercar experience company at Ingliston.
"I've also just launched my own business called You Edinburgh which is an online platform designed to promote and support local businesses."
Cameron is grateful for the continued support of his sponsors East Coast Tyres and Johnston Smillie Ltd, plus Edinburgh College students for helping with the construction of his car.
He added: "Obviously there's a lot going on just now for businesses. But they're still willing to support me throughout this global crisis so it's very good of them.
"Without them I wouldn't be able to race.
"Edinburgh College is kind of my partner as well, in terms of they help students get involved in motorsport.
"Unfortunately the students can't come to the racetrack because of the guidelines but they built the car from scratch and did a very good job."